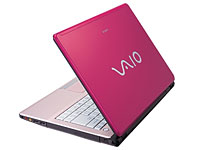 Fashion aficionados concerned that the hue of their laptop may clash awfully with their high fashion clobber will be delighted to learn that Sony is releasing their Sony F-type laptops in four stylish colours.
With Sony offering the laptops in white, pink, green and blue, fears of a haute couture faux-pas should be banished forever, although uptight Daddy-o's can still purchase the laptop in sensible, corporate silver.
The slimline F series Vaios come in F20, F30, F50, and F70 flavours, with the top of the range F70 offering a 15.4inch widescreen with 1680×1050 pixels, fast Pentium M780 2.26Ghz processor, 1 gig of RAM, Geforce GO 6200 and 128MB of video RAM in a 2.8kg package.
Measuring 14.3-inches wide, 10.4-deep, and just 1 inch-thick, Sony's engineers have managed to wedge in a 100GB drive, dual-layer DVD±R/RW/RAM and a Webcam for showing your friends your latest Pierre Cardin outfit.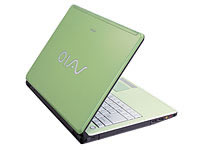 Carbon Fibre Laptops
It seems that Sony can't get enough of the funky finishes right now, with Sony Korea announcing two new carbon fibre laptops last week, the VGN-TX17LP/B and VGN-TX16LP/W 2.
Using space age technology usually being used for, err, planes and racing cars, Sony claims that these new VAIOs are twice as strong compared to existing T series notebooks, and weigh 30% less.
The display panel is a mere slip of a thing at 4.5mm thick with the designers waxing lyrical about the "sapphire black and platinum white" finish.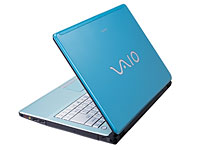 The Vaio TX series offer a handy AV mode button which makes the machine available for watching movies or listening to music in just 12 seconds with no need to boot up Windows.
The claimed battery life is impressive – up to 9 hours and 14-15 hours with an extended battery.
We've no idea of the price yet and – yes, you've guessed it – it's only being released in Korea for the time being.