Blimey, Samsung have announced that they are planning to invest $33 Billion in memory chip production over the next 7 years, Reuters is reporting.
By expanding its production lines in its main semiconductor fabrication site near Kiheung, and its seperate site at its Hwaseong semiconductor plant, by eight fab lines and one R&D, it should reach its target by 2012.
Samsung currently a major supplier of memory chips to much of the industry including Apple, for their iPod, Sony Corp.'s PlayStation Portable and Dell. This move marks confidence in their increase in demand as more devices become user memory storage over hard disc.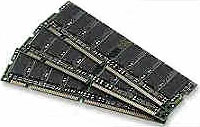 Earlier this month Samsung got a lot of attention when they announced a 16G-bit NAND flash memory chip that will lead to removable memory cards of up to 32Gb, when 16 of them are gathered on a single card.
Samsung originally entered the semiconductor business in 1974, and with this move they are hoping to reach $61 billion earnings from total semiconductor sales by 2012.