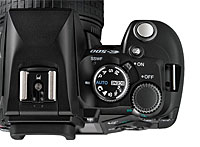 Competition at the lower end of the dSLR market looks set to heat up as Olympus launch their new Four Thirds System digital SLR, the E-500 (called the 'Olympus EVOLT E-500' in North America).
Although housed in a more traditional-looking SLR body, the new camera shares many of the same features of last year's well received E-300, and is based around the same Kodak eight megapixel 4/3 size CCD.
It's a fully specified beast, with Olympus introducing a range of improvements and new features including a new 49 area metering sensor (a 7×7 matrix), new high ISO noise filter, a whopping 21 preset scenes and a better control system.
There's numerous white balance controls onboard (including WB by colour temperature and WB fine tuning) and old school OM4 users will be pleased to see the return of the two spot metering modes for highlight and shadow detail.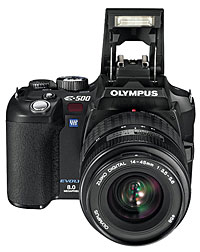 Dominating the back of the camera is a large, 2.5″ HyperCrystal 215k LCD monitor offering a wide viewing angle.
Three colour modes are supported – Vivid, Natural and Muted – with users able to choose from two Colour Space Settings, sRGB or Adobe RGB.
Photographers fed up with speckly bits on their pictures will be glad to see Olympus including their unique Supersonic Wave Filter, a sensor cleaning widget which blasts out high frequency vibrations to dislodge internal dust or dirt.
We only wish our Nikon D70 came with one!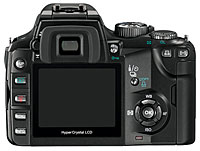 Storage is taken care of by CompactFlash Type II and xD Picture card memory card slots, with the camera capable of taking up to 4 RAW/TIFF/SHQ images in a row at 2.5 frames/second; with shooting continuing until the memory card is full at HQ quality.
There's a choice of three image formats available: RAW, TIFF, and JPEG, with the option to simultaneously record images in RAW and JPEG .
The camera looks great, the features and flexibility are at least as good – if not better – than the competition and, best of all, it's coming with a killer price tag of just US$799 (~e665~£452) for the E-500 plus 14-45mm f3.5/5.6 Zuiko Digital Zoom Lens, or $899 (~e748~£509) for a dual lens kit with an additional 40 – 150mm f3.5/4.5 lens.