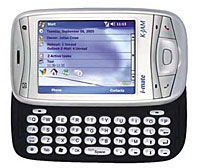 Building on the success of their hugely popular JAM phone, i-mate have announced the new K-JAM smartphone/PDA.
Powered by a TI OMAP 850 200MHz processor, the quad-band smartphone features a nifty slide out keyboard, with a form factor of 108mm x 58mm x 23.7mm (roughly the same size as an i-mate JAM, but with a deeper case).
The keyboard slides out from the left side of the phone, with the screen rotating into landscape mode for typing.
Built-in storage capacity has been increased to 64MB SDRAM RAM and 128MB ROM (for programs and user's storage), supported by a miniSD memory expansion slot.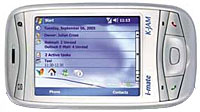 The display comes in the form of a 2.8″ QVGA (240 x 320 pixels) 64k Transflective screen, and the device runs on the latest Windows Mobile 5.0 OS.
Wireless connectivity is taken care of via integrated Bluetooth 1.1, InfraRed and – delightfully – built-in WiFi
Like its predecessor, the phone sports a 1.3 megapixel camera with a new video/flash light. We hope it's the not the same one that shipped with the i-mate JAM because that one was spectacularly rubbish.
Equally rubbish was the low-volume distorto-matic speakerphone, but i-mate seems to have addressed this issue by adding new dual speakers with 3D surround sound.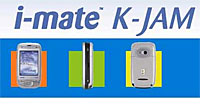 The phone offers support for a wide range of music formats, and claims 10 hours running time in PDA mode and 4-5 hours talk time.
As with other HTC-manufactured phones, consumers can expect the K-JAM to emerge under a panoply of different names over the coming months, depending on the service provider.