With Pocket PCs offering more and more storage space and applications shunting files all over the place, it's getting increasingly difficult to manage the data held on a handheld device.
With the default Pocket PC File Explorer being as powerful as a tired gnat, Resco Explorer 5.2 could prove a godsend for Pocket PC users keen to keep their devices in order.
Offering built-in file viewing, ZIP file support, encryption, storage card formatting, FTP capabilities and a Registry editor, this fella is like a supercharged file browser on steroids.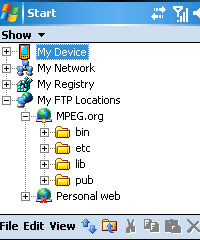 Serving up an arm-long list of features, Resco manages to combine the functions of a host of different applications and meld them into one sophisticated, do-it-all, integrated solution.
It may have a ton of power under the hood, but thankfully you don't need a degree in Advanced Boffinery to get around the program.
Resco's simple two-pane interface and hierarchical file structure makes it easy to rummage through Pocket PC files and folders (including those stored in ROM and on storage cards), and perform a range of basic actions via a menu, icon bar or tap-and-hold menu – just like a desktop PC.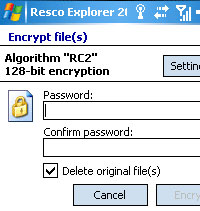 Files can be encrypted from within the program (and from a desktop applet) enabling data to be organised and secured within the same interface. Neat.
Network support is built in, letting users browse the files of connected machines, and there's also HP Mobile Printing support (via an optional free download), FTP support, tap-and-hold menus for beaming (via Infrared and Bluetooth) or emailing any file, drag-and-drop of files and folders as well as storage card formatting.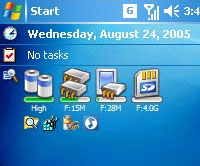 Add to that the improved support for compression – letting users save files at different levels of compression – and a new Today plug-in providing on battery status and free storage/memory and you've got a Five Star application that is an absolute must for all Pocket PC users.
Highly recommended.
Digital-Lifestyles score: 5/5



Price: $24.95 (~€20, ~£13.50)
Buy now online at PocketGear
Further information Resco Explorer 5.2