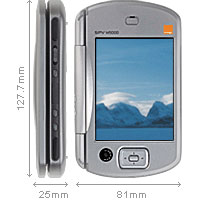 Orange has become the first UK operator to sell an own-brand Windows Mobile handset operating on 3G networks, with the launch of the SPV M5000 smartphone.
Manufactured by HTC of Taiwan, the phone goes under a host of pseudonyms and although o2 were the first to announce the launch of their version of the phone, the o2 Xda Exec, Orange appear to have beaten them to market (although the o2 phone looks way cooler in its neat black finish).
Aimed at business users on the move, Orange are hoping that the phone will provide a practical alternative to execs currently lugging a laptop, PDA and a phone around.
As we reported earlier this month, the phone combines 3G, Wi-Fi and Bluetooth functionality in a chunky PDA-style device with a natty fold out keyboard and a mega-pixel camera onboard.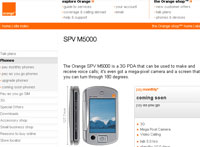 The silvery device stuffs in a loudspeaker and microphone for making conference calls, with a built-in modem and fax capability letting users blast off emails and check their appointments whilst making calls on the hands-free kit.
This new addition to Orange's range reflects the company's continuing support for Microsoft's technology as part of its 'Signature' handset programme.
Philippe Bernard, Executive Vice President, Orange Business Solutions commented, "Mobility is unlocking the potential of the IT infrastructure by giving business people access to data when and where they need it. As mobile devices are increasingly aligned with personal computers, they must operate within that same environment. The SPV M5000 does exactly that by providing a powerful Microsoft Windows based connected PDA that has outstanding compatibility with IT software, hardware and powerful connectivity."