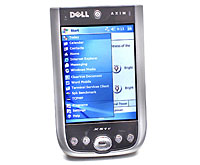 Dell has announced three updates to its popular Axim PDA series, headed up by the powerful, VGA-enabled X51v.
The flagship model is physically very similar to their existing X50v, but runs on the new Microsoft Windows Mobile 5.0 operating system and comes with more memory and powerful features.
With a hefty 624 MHz Intel PXA270 processor lurking inside, the Dell Axim X51v incorporates a 3.7-inch 640 x 480 VGA TFT display, powered by an Intel 2700G Multimedia Accelerator offering 16 MB of dedicated video memory.
Onboard storage comes in the form of 256 MB of non-volatile memory, with expansion taken care of by SDIO compatible SD/MMC and CompactFlash Type II card slots.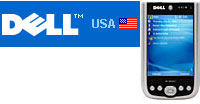 One big difference from previous models is the use of non-volatile memory, which means that the new Axim X51v uses RAM exclusively for running programs and stores all programs and data in flash.
The good news is that this results in extended battery life and means that data stays intact when the battery goes dead, but there is a downside.
Because flash memory is slower than RAM, activities that involve shunting a lot of data between storage flash and operational RAM (like opening files or rebooting the device) become slower.
PC Magazine found that opening times on large Word documents were much slower than on earlier models, taking up to 18 seconds compared to the nippy 3 seconds on the X50v.
They also found that file writes to the default storage directory took three times as long as on the X50v, and reads took nearly eight times as long, but the machine performed well with video files and opening ClearVue PDF, Pocket Excel/Excel Mobile and Pocket Internet Explorer/IE Mobile documents.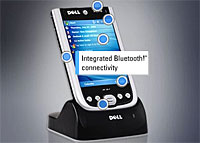 Connectivity is taken care of with integrated Bluetooth 1.2 and Wi-Fi 802.11b support, with WPA and LEAP security for the latter.
Dell have bundled in a generous software bundle of games and applications including 3D mini-golf, Geo Rally 3D and full versions of the Battery Pack Lite utility and the excellent Resco Picture Viewer.
Looking down the range, Dell's new Axim X51 and X51s devices offer 520 and 416 MHz processors respectively with smaller 3.5-inch QVGA displays and no Wi-Fi 802.11b connectivity in the X51s.
The Axim X51v is now available in the US and Europe, priced $500 USD (£271, €390) with the X51 and X51s knocking out for $400 USD (£220, €340) and $300 USD (£166, €280) respectively.