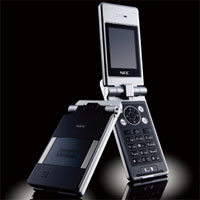 NEC ruled the early days of mobile phone, now with a battle cry of "Thin Is In!" NEC are waving their technological prowess around to the world with the launch of the world's thinnest foldaway mobile phone.
Decked out in an attractive black and silver finish, the mini-marvel supports mobile-Internet and GSM/GPRS and comes with a 1.3 mega pixels digital camera onboard.
The teensy-weensy little puppy measures just 47.9mm (width) X 101.5mm (height) X 11.9mm (depth; when folded) and weighs in at a pocket-untroubling 96g.
Despite its Lilliputian dimensions, NEC have managed to squeeze in two displays, a 1.9″ (176×220 dot) 65,000 colour display, supported by a smaller, secondary organic light emitting display screen on the front of the device, handy for displaying caller information and scrolling text messages.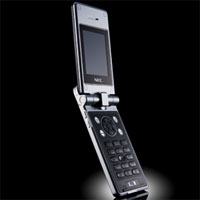 The clever boffins at NEC have also managed to wedge in PictBridge support, MP3 playback, Java and Bluetooth connectivity.
Lovers of kray-zee ringtones will shake their booties to the phone's 64-polyphonic ring tone support and there's even a movie function crammed into its super-slim frame, with the phone offering up to two minutes of movie shooting.
"This ultra-slim, clam-shell type mobile phone is a symbol of NEC's leading position in the area of mobile technology," chest-beated Susumu Otani, Associate Senior Vice President and head of Mobile Terminals Operations Unit at NEC Corporation.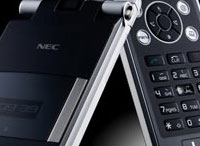 "We will continue to strive to offer the latest, most innovative and most attractive mobile terminal solutions on the market. Boasting compact shape and the latest technologies, our phones allow our customers to choose the right phone for their individual needs in all of our target markets across the globe," he continued, while laughing at the bulky dimensions of a nearby Motorola RAZR phone.
The phone is already available in Hong Kong, with other markets to follow.
We sense a big push from NEC, back to its mobile phone glory days. Yesterday NEC announced it will be supplying its Mobile Internet Platform (NEMIP) to O2 in the UK, so they can run their coming-soon i-mode service in the UK.
NEC (the L1 is so new, it doesn't even have a product page!)