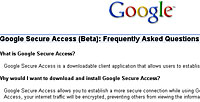 Are Google about to launch a free wireless Internet service?
The rumours are running at fever pitch as pundits scour around for clues and hints about a forthcoming Wi-Fi service by the Internet search engine giant.
What's really excited us is a set of pages on Google describing a new test service called Google Wi-Fi, containing instructions on how to use its wireless desktop software, Google Secure Access, which sits on their subdomain wifi.google.com.
Listed as a set of answers to questions, the pages include a list of features and terms of the new service, with examples including: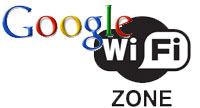 Q. "Is there a fee for using Google Secure Access? A. No, Google Secure Access is free."
Q. "Where can I go to download Google Secure Access? A. The program can currently be downloaded at certain Google Wi-Fi locations in the San Francisco Bay area."
Reuters picked up on the story and first ran an article saying that Google was preparing to introduce its own wireless Internet service, but this was later amended to say that they'd only begun a limited test of the wireless service.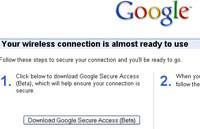 So far, Google have only introduced two wireless access points in Silicon Valley, at a pizzeria and a gymnastics centre, but it has been reported that the company were in talks with San Francisco officials about setting up public wireless networks in the city (Google currently share a single access point in Union Square in partnership with Feeva.)
Typically, the company are keeping tight lipped about their plans, but with Business 2.0 reporting that Google had "quietly been shopping for miles and miles of 'dark,' or unused, fibre optic cable across the country" last year, the Wi-Fi service is looking increasingly probable.
A free Google Wi-Fi service would make sound business sense, providing another way for Google to sell targeted advertising, big up the brand, maintain their popular reputation for dishing out free stuff and importantly adding location-based information to their adverts.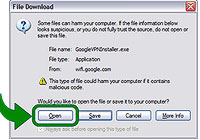 Although rolling out a nationwide Wi-Fi service would be a formidable task, with Google's energy, enthusiasm (and zillions of $$$), it's entirely possible and would no doubt be supremely popular.
Investment site Motley Fool.com are voicing doubts about Google claiming an even bigger chunk of our online life, with their article, Why I Fear Google WiFi, investigating Google's "big and potentially scary news."