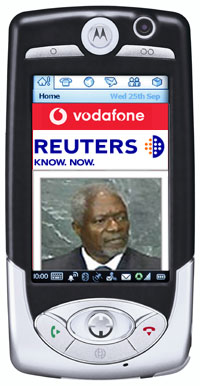 News agency Reuters has teamed up with Vodafone Live to offer a 3G streaming news video service for Vodafone customers in the UK.
The subscription service will be Reuters' first direct-to-consumer mobile video news service and will be available to Joe Public for £3 ($5.45, €4.50) a month.
For their hard earned cash, mobile subscribers will be treated to regular updates from key financial markets around the world, as well as clips from the big news stories of the day.
The service, accessible by selecting "Business News" from the "News & Weather" menu on the handset, will become Vodafone's first business and financial video to be made available over their network.
Suitably equipped 3G subscribers can choose from more than 20 different videos a day including market reports from London, New York, Singapore, Tokyo and Frankfurt.
Those lucky people can also watch riveting interviews with CEOs and industry leaders, and view stories on people and companies making headlines.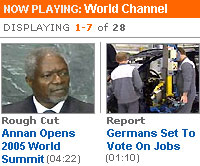 Vodafone subscribers will also get technology, world, sports and entertainment news and be able to set up SMS breaking news alerts.
Alisa Bowen, head of Reuters.co.uk, said: "The growth in downloads of video from our Websites, where over one million clips are viewed each month, made it clear just how popular video news has become.
It was an obvious next step to make this available on mobile devices, combining it with the existing financial data and text services to offer a truly multimedia experience."
The 3G service is one a series of new mobile video services that Reuters will be rolling out as part of its meisterplan to make more of its news and information directly available to consumers.