Toshiba has unveiled its new DVD recorder with the handy ability to set up and record TV programmes via email.
The RD-XS54 Multi-Drive (DVD-Ram, DVD-R and DVD-RW) can be connected to other devices over a home Ethernet network.
This means that the RD-XS54 can be connected to a PC, allowing users to share the machine and stream recorded content or live programming to the computer.
With the added connectivity, users can add and edit title information to personal home videos from a PC, upload custom Menu backgrounds for creating DVD-R/RW discs, receive automatic software upgrades and, of course, remotely schedule recordings via email. We like that bit.
The DVD recorder, which ships with a 250GB hard disc drive, also includes a High-Definition Multimedia Interface with "up-conversion" capability to 720p or 1080i.
This conversion will be performed for all sources whether they are playing back content encoded on a DVD or the hard disk, including the tuner and inputs.
"Home networks are rapidly increasing," said Jodi Sally, vice president of marketing at Toshiba's America Consumer Products Digital A/V Group.
"With our network-capable DVD recorder we enhance the functionality of the unit. Whether it is being able to schedule a recording via email or by using your home PC to program new recordings, the RD-XS54 makes recording and playback easier and more flexible for consumers".
The built-in DV input also allows the transfer of camcorder recordings directly onto DVD media, with the unit supporting high speed copying from the HDD to recordable disc, at 12x speed for transferring to DVD-RAM, and 24x for DVD-R.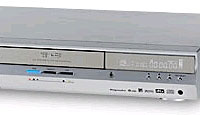 The RD-XS54 comes with Toshiba's EASY NAVI menu and the TV Guide On Screen Interactive Program Guide for simple, easy-peasy channel navigation and recording scheduling.
The RD-XS54 has begun shipping in the US with a retail price of US$699.99 (~£385,€570~).
Specs:
Playback compatibility: DVD-Video – CD-Audio – CD-R/RW – SVCD – VCD – DVD-R – DVD-RW – JPEG Picture Disc – WMA – MP3
Record compatibility: DVD-RAM and DVD-R/W
Hard Disc Drive stores up to 250GB Audio and Video
10-Bit / 54Hz Video D/A
Component Video Output: ColorStream Pro Progressive Scan
3:2 Pulldown: Digital Cinema Progressive
181-Channel Tuner
3-D Y/C Comb Filter
Black Level Expansion
3D-DNR Digital Video Noise Reduction Recording
Block and Mosquito DNR Digital Video Noise Reduction Playback
Time Slip Recording / Playback
Pause Live TV / Channel Playback
Time Base Correction
Instant Replay — Instant Skip
VCR Plus+
Inputs: S-Video, Composite, IEEE-1394 (FireWire), RF
Outputs: Component, S-Video, Composite, Optical, RF (Tuner Pass-Through)
Offers HDMI direct digital connection with an HD-ready TV