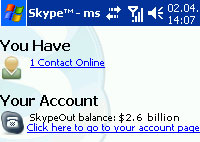 In a feast of conglomeration and convergence, Internet auctioneer giants eBay are swallowing up Luxembourg-based Skype, the world's leader in Internet phone services.
The deal involves eBay slapping $2.6 billion (£1.42bn, €2.8bn) in cash on the table, with potential future payments of up to $1.5 billion (~£823m, €1.2bn~) in cash or stock if Skype hits certain targets.
Although only three years old, Skype has rapidly grown to become one of the fastest growing companies of any kind in the world, already boasting 54 million users.
The press statement revealed that Skype generated $7 million (~£4m, €6m~) in revenue in 2004 and was expected to rake in $60 million (~33m, €49~) this year, rising to $200 million (~£200m, €163m) in 2006.
Skype's hefty price tag reflects the intense competition in the burgeoning VoIP market, and today's deal sees eBay barging their way to the Numero Uno slot ahead of Microsoft, Yahoo and Google who are all frantically adding similar services.
Although large cable and telephone companies are already moving into voice over Internet services, these typically charge a monthly fee for unlimited local/national calls.
Skype's service and technology, on the other hand, offers completely free calls to other Skype users anywhere in the world.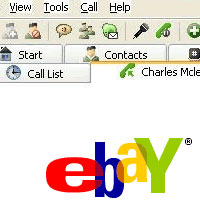 The company generates revenue by charging small fees for calls to non-Skype users and for Skype users to receive calls from callers not using the software. Skype also charge a fee to provide a voice mail service.
"Communications is at the heart of e-commerce and community," snapped eBay chief executive Meg Whitman.
"By combining the two leading e-commerce franchises, eBay and PayPal, with the leader in Internet voice communications, we will create an extraordinarily powerful environment for business on the Net," she added.
With pockets bulging from today's monster cash bonanza, Skype co-founder Niklas Zennstrom said that his vision was always "to build the world's largest communications business and revolutionize the ease with which people can communicate through the Internet. We can't think of a better platform . . . than with eBay and Paypal."
Skype was founded by Zennstrom of Sweden and Janus Friis of Denmark who started the popular online free file-sharing service Kazaa.
After selling off Kazaa in 2002, the two hotshots built Skype, and according to today's announcement, they will continue heading up the VoIP service, which will be run as a separate business under the eBay umbrella.