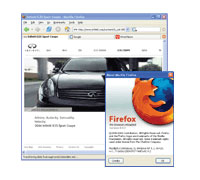 Mozilla have made their first preview of Firefox 1.5 Beta 1 – code named "Deer Park" – available to early adopters, Web developers and Extension writers.
The highly-rated open source browser already boasts over 80 million users, with its tabbed browsing, built in pop-up blocker and increased security making sizeable inroads into the market dominance of Microsoft's Internet Explorer.
Firefox 1.5 was originally scheduled for release in March 2005, but a second beta is now expected in the next month, followed by one or two release candidates before a full release "sometime before the end of the year".
Chris Beard, products and marketing manager for Mozilla Corp, explained that the delay was due to the unexpected number of new features added to the browser.
"This ended up being a much bigger release than we originally planned," he added.
The beta serves up several new features and improvements of existing tools, but Firefox are describing the new automatic updating as the "premier addition to 1.5".
Much like Microsoft's Automatic Update, Firefox 1.5 will automatically fetch program and security updates in the background and install them without user intervention. Naturally, this feature can be disabled, or users can specify that they are notified before installing patches.

Mike Schroepfer, Mozilla's director of engineering said that automatic updating will reduce the size of patches by 10 to 20 times, explaining that the feature will remove the current requirement for users to download the entire browser to obtain fixes.
Firefox also promises faster browser navigation with improvements to back and forward button performance, the ability to re-arrange browser icons by drag-and-drop and more pop-up blocking options.
There's improved security too, with a Clear Private Data feature making it easier for surreptitious surfers to quickly remove personal data through a menu item or keyboard shortcut.
Engineers at Firefox have ensured that the latest version of the browser is open-standard friendly, offering support for SVG (Scalable Vector Graphics), CSS (Cascading Style Sheets) 2 and 3, DHTML (Dynamic HTML) and JavaScript 1.6.
We were impressed with the improvements in the latest version, but it's worth bearing in mind that as an early beta release there's bound to be a few rough edges on display.
Anyone with a lot of Extensions installed, for example, may want to hold back for a while as many are currently incompatible with 1.5.
Mozilla has said that it will be providing up-to-date listing of developer extensions as they become compatible with Firefox 1.5 beta 1 at addons.mozilla.org . Mozilla were also forced to release a critical Firefox patch after a security vulnerability affecting all versions of Mozilla Firefox and the Mozilla Suite were publicly disclosed.