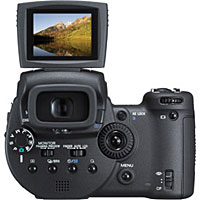 Sony has announced the ground-breaking Cyber-shot DSC-R1, a high-end enthusiast digital camera offering a 10.3 million pixel CMOS sensor with a fast 24mm -120mm zoom lens.
Uniquely, the camera's "professional grade" CMOS image sensor is APS-class, which makes it similar to those found in professional digital still cameras (in fact, Sony have long been selling their CMOS sensors to dSLR manufacturers, but this is the first time they've put them in their own cameras.)
The benefits of these larger sensors is that they offer higher sensitivity to light and lower image noise than the little pups you find in fixed lens/compact cameras.
Despite CMOS sensors being notorious power hogs, Sony has engineered the camera to provide a live image preview through its swiveling LCD monitor and EVF viewfinder – a very useful feature not available on dSLRs.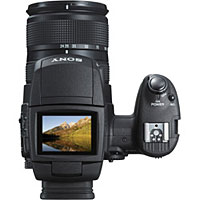 Supporting the fancy pants sensor is a high quality Carl Zeiss Vario-Sonnar T 5X optical zoom lens covering 24mm to 120 mm (f/2.8 to f/4/.8.)
The 2-inch LCD is of an interesting construction, letting photographers swivel it through a range of positions or lay it flat across the top plate, in the style of a medium format camera viewfinder. Neat.
The camera offers Sony's Advanced Gradation Control System (AGCS) which evaluates the distribution of brightness in a scene via the histogram and then applies the appropriate gamma curve to improve a scene's contrast or to minimise saturation.
Despite the presence of the power-guzzling CMOS live preview, Sony are claiming a battery life of around 500 shots, with the camera storing files in JPEG or RAW image modes.
As has been the trend with their recent models, there's both Memory Stick and Compact Flash memory cards onboard.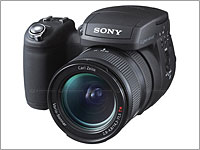 The camera's $1000 price tag puts it in the heart of dSLR territory and we can't help wondering how it's going to compete.
Sure, the live preview is a very attractive and convenient option, but with its dSLR rivals offering far more flexibility through a huge array of available lens, we feel that Sony may struggle to gain a competitive edge – especially considering that the designers have bizarrely left off a movie mode.
I guess we'll have to wait and see how it performs in the reviews before making a final judgment on this one.
The camera will be available in mid-November.