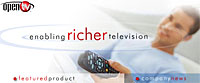 OpenTV Corp have given out a large toot on their PR trumpets and announced the availability of their "PVR 2.0" software to network operators and set-top box manufacturers worldwide.
OpenTV are big hotshots in the world of digital and interactive television technologies, and their new PVR 2.0 software is touted as an all-in platform for personal video recording, supporting standard and advanced features including push VOD and remote event booking.
The software includes support for the OpenTV streaming file system, a technology designed for PVR based usage with the aim of increasing the reliability and life span of disk drives.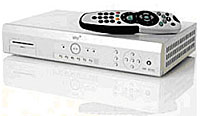 PVR 2.0 is built upon OpenTV's "Core 2.0" software, the fourth generation of set-top middleware which sports an architecture and features to support the expanding requirements of advanced digital television set-top boxes including PVR, VOD, IPTV, HDTV and home networking.
Network operators UPC Broadband, StarHub and AUSTAR have recently chosen OpenTV PVR 2.0 to integrate into their advanced digital platforms for the launch of their first PVR solutions.
OpenTV is also working to bring OpenTV PVR 2.0 to market with a wide range of set-top manufacturers including ADB, Pace, Phillips, Scientific Atlanta, Thomson and UEC, and with the leading CA vendors including Irdeto, NagraVision and Viaccess.
"Network operators increasingly understand middleware's value in achieving their business goals, reducing operational costs and improving time to market of the services critical to the success of their businesses," said Tim Evard, who has a very big name badge declaring him to be OpenTV's "senior vice president and general manager of products and marketing."
"OpenTV Core 2.0 and PVR 2.0 is quickly becoming the platform of choice for worldwide operators launching PVR solutions. We will be demonstrating the latest features of Core 2.0 and PVR 2.0 at the upcoming IBC conference in Amsterdam," he added.