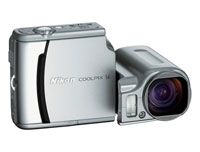 We like swiveling cameras.
With their crafty pivoting design, they're great for taking sneaky street candids, stealthy snaps and images taken from err, "imaginative" angles, so we were excited to hear about Nikon's new Coolpix S4 camera.
Decked out in an attractive silver finish, Nikon's new swiveler builds on the success of their Coolpix SQ and E9xx series cameras, boasting six million-pixels and a hefty 10x optical Zoom-Nikkor lens, covering 38-380mm.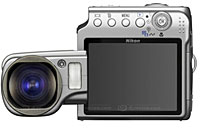 The swivel capability lets users shoot from the eye, the waist, overhead or upside down if they so desire, with the 180 degree rotate making it easy to take self portraits.
The shirt pocket snapper comes with the usual slew of scene modes covering every climatic and lighting condition imaginable on earth, with the addition of an innovative "Face Priority AF Mode", which claims to automatically find faces in photos and focus on their gurning mugs.
Handling's been improved with the Coolpix S4 featuring a new grip design with a large 2.5-inch 110,000 pixel TFT monitor making it easier to compose scenes and admire captured photos.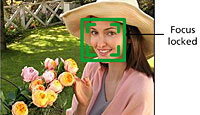 Powered by a pair of AA-size batteries, the S4 is designed to be highly portable, boasting slimline 112 x 69 x 37 mm (4.4 x 2.7 x 1.4 in) dimensions and a light weight of 205g.
For fine tuning images, the camera offers In-Camera Red-Eye Fix, AE-BSS to select the best relative exposure from a series of shots and a "D-Lighting" function for brightening under-exposed pictures in-camera, conveniently saving a copy of the edited image rather than overwriting the original.
For punters with Spielberg aspirations, Nikon has included three Movie Modes (up to 15 frames per second) with sound and a time-lapse movie function.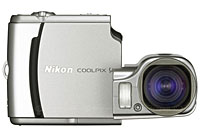 The Coolpix S4 will be available at the end of this month priced €399 (£218, €320).