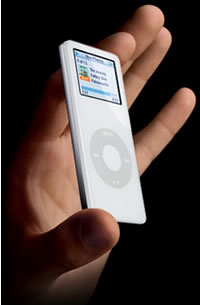 iTunes 5.0
The iTunes software for PC and Mac has now reached v5, it's available for immediate download from Apple's site (and via software update for Mac users).
It features a "refined" interface with a new "search bar" making it easier for users to find what they're looking for, playlists can be organised into folders, Smart Shuffle allows users change the randomness of their shuffled songs.
Windows users also get the added benefit of being able to sync contacts and calendars from Outlook (Mac users have had this ability through iLife for a long time).
iTunes software unsuprisingly integrates seemlessly with the iTunes music store which (in the UK) accounts for at least 80% of all downloaded music.  There's now over 1.7 million songs available, 15,000 podcasts and 10,000 audio books.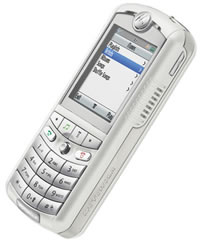 Motorola ROKR
The Motorola ROKR (pronouced rocker) is a quad band GSM phone with iTunes built-in. It can hold 100 songs and connects to a PC (or Mac) via a USB connection. Apart from the iTunes software (which can bedirectly accessed from a button on the front of the phone) it's a normal Motorola phone.  You either like them, or you don't. It's still encumbered with Motorola's quirky menu system.
If you're listening to iTunes and the phone rings etc, it will pause the song playing and you can return to it when you've finished the call.
The phone does have some good features with passable stereo speakers and pretty good playback through headphones. Battery life is meant to be good too, though exact figures were not quoted.
It's available in the US now exclusively through Cingular.
iPod nano
The nano is the new iPod killer. It's tiny, but holds up to 4GB (1000 songs, though there's a 500 song/2GB version available too). It's got a colour screen and a click-wheel. It comes with a USB 2.0 cable, earbud phones and a CD with iTunes, etc.
The colour screen gives it away, it's an iPod Photo shrunk to miniscule dimensions, bigger than a Shuffle, but smaller than a mini – and thin (it hides behind a number 2 pencil). It features a standard 30pin dockconnector port, so can be used with most (if not all) mini or standard accessories. Apple have put in a couple extra bits of software like world clocks (you set your normal country, but can select as many otherclocks relating to a country as you wish, each clock shows whether it's day or night), there's also a screen lock – to stop others messing with your nano.  It can also hold 25,000 photos (when synced through iTunes).
Apple have also released some specific nano accessories like tubes (sleeves in various colour, 5 in a pack), lanyard headphones, armbands and a dock.  These should be available within 30 days.
Apple may have been losing to the competition in the lower end of the market especially in the solid state arena, however the nano changes all that (it's got 4GB of solid-state memory in it, not a hard disc like the iPod Mini) and it's going to knock the competion for six, it's got all the "Designed in California" (of course by a Brit, but they keep quite about that) sex appeal and the packaging is superb. It's smaller than almost everything out there. You're going to want one for Xmas … actually, on reflection, you're going to want one of these straight away.
Pricing for the nano is $249 for the 4GB (+ local taxes) or in the UK, £179 inc VAT, in Europe Eu 239. The 2GB model is $199, or GBP 139 inc VAT in the UK and is available now.
The best thing about it though, you can get it in white or black.
Apple iPod Nano
Motorola ROKR
Apple iTunes 5