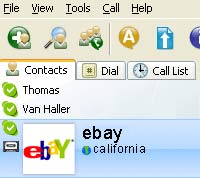 Rumours hotter than a double strength vindaloo are circulating major news organisations like the Wall Street Journal, Reuters and the Web that online auctioneers eBay are in talks to acquire the Internet-telephony company Skype.
The Wall Street Journal is reporting the world's largest online auction site could be heading for a major shift in strategy in a deal involving truly stratospheric figures of $2 billion to $3 billion. If you think that's high, the New York Post are quoting $5 Bn as the price.
The paper reports that the talks are in a "sensitive stage" and – mindful of Skype's earlier failures to close deals with other technology companies – could "fall apart" at any given moment.
(Simon Perry – The very fact that eBay could be getting around the table with Skype either reflects the company's quest for new product categories and international markets, or they could integrate Skype into the service, offering purchaser and seller to talk to each other. Another option could be to use Skype's ability to host group discussions as a way of strengthening communities with the same interests.
Although they still rule the roost for online auctions, their core business is maturing, leading the company to diversify into new markets such as rental-property listings, online classified-ad listings and comparison shopping.
Despite other online leaders such as Yahoo and Google ramping up the feature set and expanding into new territories, eBay has remained focussed on the task of acting as middleman between individual buyers and sellers.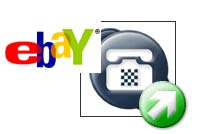 Their acquisition of the electronic-payment processing service PayPal in 2002 echoed their aim to simplify the business of buying and selling goods online, and an integrated VoIP service could provide a key element of that strategy.
Such a deal would also massively increase Skype's presence, with eBay's huge user base of 157 million technology-literate subscribers likely to be keen to adopt.)
Although market leader Skype currently enjoys huge popularity, their Big Cheese position is coming under considerable pressure as Google (Google Talk) and Microsoft (after recent Teleo VoIP purchase) tool up with their own VoIP offerings.
Optimistically, we gave Skype a call for their opinion (on Skype naturally) and got the expected, "Skype doesn't comment on rumours" answer.
The 'Skype for sale' rumours are unlikely to go away after it was recently reported that they had hired investment banking firm Morgan Stanley & Co. to examine their options – including floating an IPO.
Back then Skype flatly denied that the company was for sale. Today, they didn't confirm or deny this.
As Apple know, this is the best way to get written about, isn't it?
We'll see.