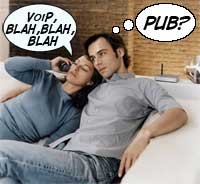 Siemens have announced their new Gigaset SL75 WLAN Voice-over-IP (VoIP) cordless telephone for the home.
The Gigaset SL75 WLAN is one of a new generation of cordless VoIP phones that lets users wander free from the limited range of base stations, with the phone being able to access any open Wi-Fi points.
Ideally suited for workers ambling around corporate Wi-Fi networks and cuddling sofa lovers (see photo), the SL75 will hook up to any public WLAN access point (gateways/hotspots) and store profiles of hotspots for fast retrieval when shuffling between networks.
Users will be able to make VoIP calls from any of these access points without the need to have a PC rattling away in the background.
Siemens haven't held back on the feature set, with the Gigaset SL75 WLAN handset offering an instant messaging service and the ability to receive and send emails, complete with photo attachments.
Blurring the distinction between a mobile phone further, there's an integrated digital camera onboard and the usual 16 polyphonic ring tones, with personalised caller tunes.
The handset can store 200 names, phone numbers, addresses, and email addresses, with the information niftily synchronised with the desktop via WLAN.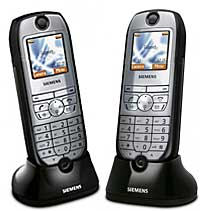 Decked out in (ahem) "the season's high fashion colour night grey", the Gigaset SL75 WLAN sports a colour display (128×128 pixels, 4k/65k colors) and comes with a small docking station.
Now you might be wondering, "if it's a home phone, why haven't they made the thing more useful by bunging in a DECT phone too – like their earlier Siemens M34 Wireless DECT Handset?
The answer is simple. This is the future and, as Siemens explains, this puppy is going to "dispense forever" with the traditional concept of a "home phone."
So now you know.
The Gigaset SL75 WLAN will be available in Europe from November 2005 for approximately EUR 299 (~$370, ~£205).