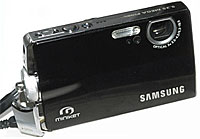 Samsung have unveiled their sleek, credit-card sized Miniket VP-MS15 digital camera at the Berlin IFA show.
It may be smaller than a cold ant's nether regions, but Samsung have managed to pack in a 5.25 mega-pixel CCD sensor, 3x optical zoom and a large 115K 2.5″ LCD display.
With the factory humming to the tune of convergence, Samsung have wedged in an MP3 player, voice recorder and a high quality video recorder capable of capturing high quality VGA clips (640 x 480 @ 30 fps) assisted by the built-in DIS (digital image stabiliser).
The camera comes with 512 MB of memory on board with a miniSD slot offering up offering up to 1GB of additional storage space – enough to store 250 songs or 17 hours of recording via the microphone.
Unlike many other digital cameras, users can zoom in and out to their heart's desire while shooting video and Samsung's little box of tricks is also capable of outputting video at a resolution of 720 x 576 pixels at 25fps via the AV out port.
Connecting the Miniket via USB 2.0 also lets it be used as a Webcam or a 'portable hard drive'.
Conveniently, the VP- MS15 can also be charged via a USB connection, saving the hassle of carting along a power cable or optional charger when on the move.
"Samsung is always looking to combine stunning design with high functionality," said Byoungyoul Yu, Senior Vice President of the Digital Video Division at Samsung Electronics.
"We are bringing to market multi-functional products that change consumers' perceptions over the limitations of a digital device. The VP- MS15 allows consumers to carry one business card-sized device whether they wish to record high quality digital video, digital photos or MP3s."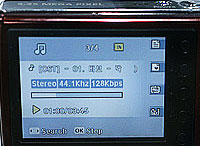 Samsung have also released two identical-looking smaller brothers to the MS15; the VP-MS11, with 128MB of onboard memory. and the VP-MS10 with 64MB.
The Samsung VP-MS15 digital camera will be launched in Korea on October, followed by a European debut the following month with a recommended retail price of €399 (~$500 ~£271).
Much as we love these do-it-all gadgets – especially when they're smaller than a shy dot and kitted out in a smooth black finish – we wonder why someone looking for this kind of convergence wouldn't just shell out for a smartphone instead….
Samsung
Photos courtesy of Let's Go Digital