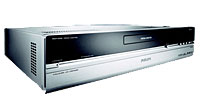 Philips has announced the Showline MCP 9350i, a media PC powered by Microsoft's Windows XP Media Center Edition 2005 platform.
The result of collaboration with Intel, the Philips media centre is based around an Intel Pentium 4 processor running at 3 GHz atop an Intel 945 chipset, with support for the soon-come high definition TV (HDTV).
Philip's media PC is aimed at the living room/lounge, allowing punters to store and share photos, music and video in a single system.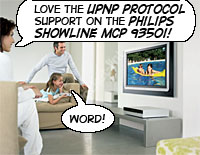 There are two integrated tuners onboard letting sofa-reclining types watch one channel while recording another on the 250 GB hard drive or to CD or DVD.
Housed in a stereo component form factor, the unit offers high-quality audio and video playback and a ton of connectivity options including a front-mounted flash memory card reader supporting SD/MMC cards, Memory Stick and CompactFlash cards, two USB 2.0 ports, a FireWire connector and Wi-Fi 802.11b/g wireless connectivity.
The Philips MCP9350i (snappy name fellas!) will also come pre-installed with Windows Media Manger, which serves up an electronic program guide (EPG) providing access to one-touch recording, access to music, video, photos and games as well as Internet browsing and online services.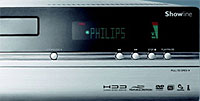 Philips' Digital Natural Motion technology is employed to improve video quality and reduce stutter, with built in support for the UPnP protocol to allowing the unit to act as a media server for products in Philips' Streamium range of media viewers.
The Philips Showline Media Center MCP9350i will be rolling out in Europe in October. Pricing is yet to be announced.