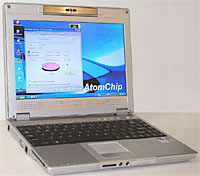 UPDATE – Thanks for the number of people who have written to us about this one, lead by Matt Lacey.
When originally checking the background for the story, we looked at the CES site finding AtomChip had a stand at CES _but_ that they were listed as a CES Innovations 2005 Awards Honorees.
The AtomChip.com domain is registered to Shimon Gendlin, who filed a patent on November 29, 1996 for 'Non-volatile record carrier with magnetic quantum-optical reading effect and method for its manufacture', which was granted on November 24, 1998.
It looks like we, like many other publications, could well have been had on this one. If we have, hats off to 'Shimon Gendlin' who's done everything he could have done to make it look real.
So be it as you choose … here's the original story.
Research and development company, Atom Chip Corporation, have unveiled a beast of a laptop – the competition-frying 6.8GHz AtomChip SG220-2 sporting a TeraByte of RAM and 2 TeraBytes of storage.
With enough firepower to make the latest high-end laptops look like backfiring peashooters, this monster achieves its breakneck speeds by dispensing with hard disk drives and thus increasing system stability by generating less heat and vibration from rattling disk operations.
The laptop uses new Quantum and Quantum-Optical devices for storing and processing information, with the machine being completely based on solid state AtomChip optoelectronics (whatever they are).
These non-volatile Quantum-Optical RAM wotsits increase the speed of the system, removing the need to refresh information after every cycle of reading of information, as with regular RAM.

The 6.8GHz behemoth is powered by AtomChip's Quantum II processor (or four 1.7GHz Intel Pentium M processors) with a terabyte of Quantum-Optical non-volatile RAM (NvIOpSRAM-SODIMM 200-pin) onboard.
The new non-volatile Quantum-Optical RAM increases the speed of the system as the need to refresh information after every cycle of reading of information (like regular RAM) doesn't exist any more.
Even the most obsessive MP3 file collector will have serious problems filling the colossal 2TB of non-volatile Quantum RAM storage space onboard (NvIOpRAM-ATA IDE).
Compared to these eye-watering specs, it's a surprise to see that the screen's a bit of a squinter, offering just a 12.1″ WXGA (1280 x 800) display.
The actual laptop looks a bit rubbish too, bedecked out in a 'High Street' bog standard silver finish with a design that won't be troubling Sony and Apple execs.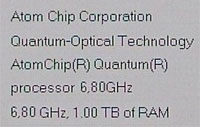 Despite the nation-threatening amount of power on hand, Atom Chip are claiming an impressive battery life of approximately 8 hours for the AtomChip II processor and 3 hours for the 4 x Intel Pentium M processor version.
The company will be showcasing their Billy Whizz laptop at the Consumer Electronic Show (CES) held in Las Vegas in January 2006.
Pricing has yet to be announced, but I suspect we're talking 're-mortgaging the house' here.