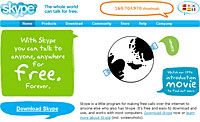 Skype has slapped hands and manfully patted backs with German network operator E-Plus as the VoIP giant secures their first 3G partnership.
The exclusive offering will see Skype bundling in their Internet telephony software with E-Plus's flat-rate data subscription.
This will let subscribers to the Skype/E-Plus deal benefit from a fixed-rate mobile Internet access, freebie Skype calling and the ability to control call costs using the E-Plus flat-rate data subscription.
Niklas Zennström, Skype CEO and Co-founder was ready with a quote: "We look forward to working with other innovative mobile operators around the world to bring the value and convenience of the Skype global Internet communications experience to their millions of mobile phone subscribers."

The busy-bee Skypesters are said to be already hatching up schemes with a number of major handset and headset manufacturers – including Motorola – to develop a broader range of offer Skype-ready devices
"The use of Skype is growing strongly. Through our co-operation we are combining the advantages of mobile and stationary Internet access," said Uwe Bergheim, Chief Executive Officer of E-Plus.
The flat-rate data subscription from E-Plus will be offered to its 9.8 million subscribers for €39.95 (~£27~$50) per month in October.
The company hopes to attract revenue from the fixed network and lure people off their landlines by persuading customers to make mobiles their de facto choice for making calls.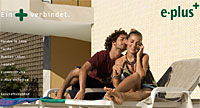 Skype currently claims more than 2.8 million Skype users in Germany.
Elsewhere, Skype has added a call forwarding function to the latest release of its VoIP software.
This lets users forward incoming Skype-to-Skype and SkypeIn calls to another Skype Name or to any landline or mobile phone.
The call forwarding is free so long as users have sufficient Skype balance available to forward the call to landline or mobile numbers.