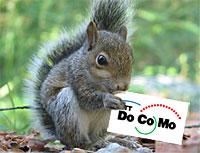 Prototype cellphones capable of transmitting data faster than a startled squirrel on speed have been demonstrated by NTT DoCoMo in Japan, according to the New Scientist.
To test the speed and reliability of the new phones, the prototype handsets were used to view 32 high definition video streams from a car rolling along at 20 kilometres per hour.
NTT DoCoMo officials claimed that the 4G phones manage to receive data at the incredible rate of 100 megabits per second while on the move, and an astonishing gigabit per second while static.
At these kind of white-knuckle speeds, the contents of an entire DVD could be downloaded within a minute.
Compare those breakneck speeds with the stately download speed of 384 kilobits per second (129 kilobits per second upload) offered by DoCoMo's current 3G (third generation) phone network.
Naturally, the boffins behind NTT DoCoMo's experiment high-speed phone network have come up with a suitably techie description of the technology, describing it as Variable-Spreading-Factor Spread Orthogonal Frequency Division Multiplexing (VSF-Spread OFDM).
This _apparently_ increases downlink speeds by using multiple radio frequencies to send the same data stream.

During the tests, another smartypants wireless networking trick was employed to send data via various routes across a network to further increase data capacity.
Going under the snappy acronym of MIMO (multiple-input-multiple-output) multiplexing, the technology could, for example, enable a cellphone to receive data from more than one base station in range.
Lajos Hanzo, a communications expert at Southampton University in the UK found the prototypes "technically impressive," but warned that NTT DoCoMo will need assistance from other phone companies for 4G take-up.
"In today's world nobody can go it alone," he told the New Scientist.
"And hence any standard proposal must be internationally ratified, which has not as yet take place," he added.
There's already been some international activity to cooperate on standards, with Japan and China signing a memorandum on 24 August to work together on 4G.
But don't start throwing out your 3G phones quite yet though: NTT DoCoMo doesn't expect to launch a commercial 4G network until 2010.