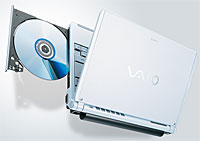 Large pools of drooling saliva formed around our mouse mats this morning when we caught sight of Sony's new range of slimline laptops, the Sony T.
Slicker than the Torey Canyon in a sea storm, these wafer-thin laptops makes Kate Moss look like a pie-scoffing lardbucket, measuring just 272mm x 195mm x21mm and weighing a gravity-untroubling 1.25kg.
Despite their sylph-like dimensions, Sony have managed to wedge in the gubbins for a fully spec'ed machine, powered by a pokey Celeron 1Ghz / Pentium M 753 at 1.2Ghz CPU supported by a 915GMS graphics chipset.

There's also healthy 512Mb of RAM (upgradeable up to 1.5Gb) onboard, 40 to 60Gb HDD space and a DVD burner
Connectivity is taken care of with Wireless LAN and Bluetooth, USB 2.0 and a MS/SD/MMC port, and there's also support for Sony's new Felica contactless smart card technology.
The 1366×768 resolution display boasts a Backlight LED which is claimed to produce a screen 30% brighter than Sony's current laptops.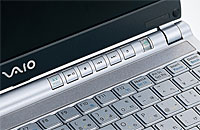 As ever, it's the lucky Japanese who get to play with the cool toys first, with the Sony T going on sale in Japan from September 10th onwards.
Sony Japan's Website carries extensive information about the new T range, but seeing as our command of Japanese is on a par with our harp playing abilities, we can't tell you much past the fact that Skype comes preloaded and that the units will be available in a range of three colours – slate grey, charcoal black and white silver. All look fabulous.
No further details have been released yet (at least not in a language that we could understand) and there's been no comment on pricing or UK availability.
But we'd like one please. Two, if you're asking.