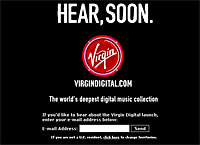 Sir Richard Branson will be slamming the virtual champagne against the good ship Virgin Digital UK as another digital music service slides down the slipway on September 2nd.
Virgin's new service will serve up over a million tracks, available to punters through a subscription and a download service.
Subscriptions will start from 40p (~US$0.70, €0.58~) each day, with permanent downloads costing 79p (~US$1.15, €1.4~) upwards, but Ipod owners needn't apply as the service uses Windows Media, which goes together with iPods like chocolate and cabbage.
Sir Richard Branson, ubermensch of the Virgin Group, set his PR spin machine to eleven: "With a strong music heritage behind us, as a record label and a retailer, Virgin has a huge advantage, and platform to launch a digital service that will become the ultimate destination to buy, stream, burn and enjoy the best the music world has to offer."
In an already crowded digital download marketplace dominated by iTunes, digital music services are hard-pushed to dream up compelling USPs, but Virgin claim that their service aims to "redefine" the digital music experience with a wallet-opening combination of features and consumer elements.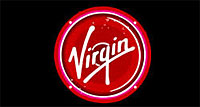 Virgin Digital UK is set to serve up a mix of digital music store, music club subscription service, streaming radio, powerful digital music and portable device management tools, along with a collection of music-discovery gizmos.
Developed in-house, the service is a collaboration between Virgin and US digital music provider Music Net and ramps up the feature set with additional track info, musical recommendations with phonetic search, comprehensive artist biographies and a 'Related Artists' feature which serves up information about the influences, collaborations and recommendations of similar artists.
To big up the launch of the service, Virgin will host exclusive performances from Bloc Party, The Dandy Warhols and The Cribs on September 2nd, with another 150 London-wide live performances in the pipeline, providing exclusive content to the Virgin Digital site.
Virgin are offering two subscription services; Basic £9.99 (~US $17.8, €14.6~) or Premium £14.99 (~US$26.7, €22~), with individual tracks available from 79p (~US$1.15, €1.4~) per song.