Thanks to Samsung's PR for getting in touch with us to clarify facts on this story.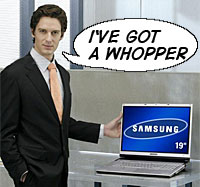 Samsung will be debuting the world's first 19″ notebook, the Samsung M70, on 2 September at the IFA Consumer Electronics Show in Berlin.
Despite sporting a multiplex-threatening 1680 x 1050 TFT display, the 19″ monster is no slouch in the speed stakes, with Samsung claiming a 10m/s response time, 600:1 contrast ratio and a "brightness and depth of shade not known in previous notebooks of 280cd/m."
Samsung insist that it's not just about size though, and to prove it they've added a clever removable screen widget.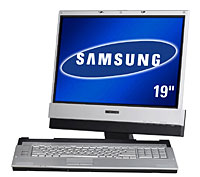 This lets users detach the laptop's screen and place it in a dock to give the appearance of a conventional desktop.
Anyone who has spent hours slumped over a laptop screen should welcome this innovation as the screen dock affords a far more comfortable viewing position – and there's also a handy DVI interface on the docking station for external appliances too.
Powering the monster screen will be a Nvidia chipset, with the laptop promising to have the "fastest mobile processor" onboard (most likely an Intel).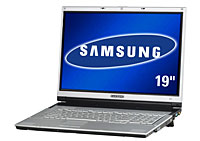 Despite the added complexity and enormous screen size, Samsung have claimed that the laptop will weigh no more than their current 17-inch notebook so it should be vaguely portable (if you work out at the gym).
The Notebook M70 will be available sometime in October 2005 although there's been no announcement about price or availability.