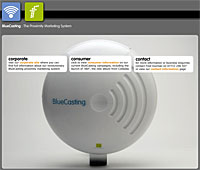 Bluetooth enabled billboards may soon be bothering passers-by with wireless advertisements blasted to mobile phones, according to the New Scientist magazine.
The brainchild of Alasdair Scott, co-founder and chief creative officer of London-based Filter UK, the 'BlueCasting' system will send a message to Bluetooth enabled phones strolling within 100 metres of a wired-up advert.
If the user has their Bluetooth turned on, they'll be pestered by an invitation to download a pile of digital content related to the advertised product.
Anyone bonkers enough to actually agree to this can look forward to having their phone bombarded with video ads, discount vouchers, animations, music, still images and other advertising guff.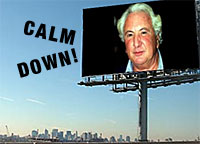 Trials took place recently at six London railway stations in partnership with the advertising company Maiden Group, with Bluetooth-equipped posters offering to beam promotional material and song clips from Coldplay's new album to passers-by.
Over the space of two weeks, 87,000 Bluetooth phones were recorded ambling past and – amazingly – 17% of those were willing to download the clip.
Although such a high take-up figure is sure to moisten gussets in advertising boardrooms, we reckon it's more to do with the novelty factor and the fact that the test billboards offered popular mainstream content.
Had they been offering people the chance to download dire advertisements like ESURE's insurance toe-curler (punchline: "calm down dear, it's only a commercial!") we confidently predict that the take up would have been closer to 0%.
Now on to the science bit: The system uses proximity-based broadcasting courtesy of a directional Bluetooth transmitter lurking behind the billboard.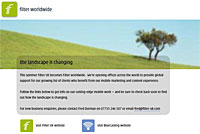 This beams the adverts to anyone within 100m of the billboard with Simon O'Regan, Filter UK's Technical Officer insisting that, "only people who can see the billboard are offered the additional promotion."
The Maiden Group are currently installing transmitters on its billboards at 30 U.K. train stations over the next 18 months, and plans to extend the service to large shopping malls, with Filter getting ready to pester harassed passengers with their own sites at Heathrow.
It looks like consumers won't be able to escape being bothered by requests to download material from Bluetooth adverts as there's currently no UK regulations restricting the use of Bluetooth ads being sent to mobile phones (short of users being forced to turn off the Bluetooth 'discoverable' functionality)
However, the advertising still comes under the jurisdiction of the Advertising Standards Authority who have voiced concerns that adverts for 18-rated computer games may be blasted at under age kids.
Mind you, we imagine ne'er do wells are going to love the BlueCasting system, with the area around Bluetooth enabled posters turning into a virtual shopping mall for mobile phone purloiners.