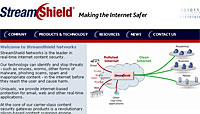 Straight out of the text book of Thinly Veiled Product Placement Exercises comes this featherlight-fluff from StreamShield, who commissioned a survey asking the vital question: "Are women more sensible surfers?"
Somehow finding 1,005 adults across Britain prepared to answer the questions, the MORI survey discovered that female PC and Internet users are less likely to succumb to threats such as viruses and receive junk in their inboxes than male users.
The survey revealed that 46% of men reported that their PC had been infected with a virus compared with 38% of women, and 50% of men moaned about receiving excessive spam versus 38% of women.
In a statistic barely worth repeating, StreamShield's report also tells us that men suffered more unwanted pop up ads than women (74% to 69% of women).
A total of 29% of blokes reported receiving a dodgy email from a bogus financial institution asking for their banking details, compared to 16% of female users.
When it comes to experiencing online fraud, it seems that the geezers were more gullible with 8% reporting that they'd been stung compared to just 4% of the ladies.
But it's not all bad news for thicko blokes, with the survey claiming that the manly sex have a better overall awareness of Internet threats, with nearly all of them (97%) knowing what a computer virus was versus 92% of female users.
The same applies to other terms like Spyware (66% of men are aware of the term compared with 47% of women), Adware (51% men, 29% women), Phishing (37% men, 18% women) and Key loggers (27% men, 10% women).
Geoff Bennett, Director of Product Marketing at StreamShield insisted that the research proves that there is a clear difference between the male and female experience when online, suggesting that this may be due to the "two sexes may be using the Internet differently."
(We think he means that many blokes tend to get their machines stuffed full of online nasties because of their undying attraction to Websites containing "artistic nudes.")
Bennett wraps up his product-pushing survey by claiming that there's "an education job that needs to be done across both genders as awareness of these threats overall is far too low and at the moment this is one battle of the sexes which men are evidently losing!"
Oh, and in case you missed it, StreamShield Networks provide Internet-based protection for email and the Web applications.