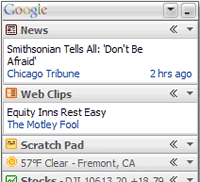 Many who used the original of Google Desktop Search loved it. If you had a mention of the word you'd searched for, whether it be in a word document, an email or even in a IM session, up would come the list of mentions.
The new version of Google Desktop Search (or GDS2 as it's bound to become) builds on its past strengths and adds to it.
Beyond an enhanced search facility, which now searches network drives too, the big addition is the Sidebar feature. An aggressive move, that will unsettle Microsoft, Yahoo and AOL as it's moving into their territory.
When in this mode, a configurable selection of information is displayed down the height of the screen either on the right or the left of the screen. You don't have to go to your Web browser to find the information you're interested in, it comes to you.
Standard setup comes with email to your gmail account (a new feature), news headlines, stock prices, weather and interestingly Web Clips. Web Clips are RSS feeds – and will come with some controversy attached to them.

Last week a lot of fuss was generated in the blogging world when Microsoft decided to refer to RSS as Web Feeds in their upcoming updated browser, Internet Explorer 7 Beta 1. It will be interesting to see if equal vitriol will be reserved for Google as they 'rename' RSS to Web Clips.
We think the interesting boost is the API (Application Programming Interface) and SDK (Software Development Kit) for Sidebar, which enables developers to write plugin to display in Sidebar, but also embed Google Desktop Search into their own applications, bringing fast, convenient search to their users.
There are already some interesting new plugins at the site, such as gdTunes which lets you control iTunes from Sidebar, without having to actually go to iTunes.
Ever mindful of income, Google also are offering an AdSense Status plugin that offers information about your earnings through AdSense.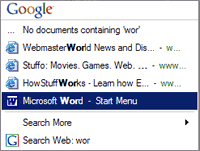 After a brief look at it, we found that it appears to have rectified one of the problems with the old version – primarily that it slowed your machine down when it was loaded. This slow down often was so significant that it caused those with slower/older machines, or those who actually needed the power of their processors, to remove it – despite its benefits.
As before, there is a long list of software that Desktop won't work with – the majority of it being anti-virus and anti-spam.
There will be many software and services organisations that will be looking at GDS2 with more than a little concern – they're starting to tread on a few toes.
At a time when there's much talk about how there may be a lot of selling of Google shares (the tax paid on selling shares that have been held for more than a year is considerably reduced), and the drop in share price that might bring, isn't it fortunate timing that this, and the full release of Google Earth is coming on the first day of trading after the one year period is up.