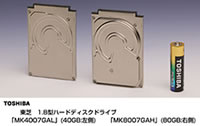 Toshiba claim a first with their release of what they claim is the first commercially released Perpendicular Magnetic Recording (PMR) hard drive.
Measuring 1.8 inches, the incy-wincy drive can hold 40Gb on its single platter, providing around 10,000 music tracks, or 25k photos. Running with the oh-so-memorable OEM name of the MK4007GAL, it weighs in at just 51g and measures 54mm x 78.5mm x 5mm. They plan to release a two platter version, the MK8007GAH, which has 80Gb storage and only an extra 3mm thickness, next quarter.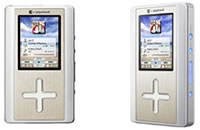 They're also using the drive to make their Gigabeat music player sexier. The introduction of PMR technology into the Gigabeat F41 not only gives them 40Gb of storage, from a previous 20Gb, but lets them shrink the thickness by 3m.
Drives like this are becoming more important as digital media moves further into the mainstream, and consumers digital appetites expands from music to video. With the drive being this small it will fit into really compact devices like mobile phones.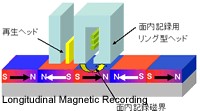 How does it work its magic? Today's drives typically use Longitudinal Magnetic Recording (LMR). In simple terms, the difference between the two is LMR has the magnetic field pointing either left or right, while PMR has them pointing up or down. This helps to achieve higher and more stable recording densities, and in turn improves storage capacity. The images from Toshiba should help make it a bit clearer (if you happen to speak Japanese).
While the theory of PMR has been around for a number of years, Toshiba has taken 1-2 quarters longer than they'd expected in getting the MK4007GAL to market.
Toshiba roadmap with PMR appears impressive with their 3.5in PMR drives giving 1Tb of storage in Q4 2006/Q1 2007. They estimate that PMR should give their 0.85″ drives 6-8Gb per platter.
It is generally thought that all hard disk manufacturers will move in this direction in the pursuit of ever higher storage capacities.