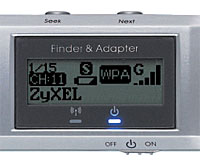 ZyXEL's new AG-225H Wi-Fi Finder is an ideal tool for hotspot-hunting consumers, hackers, freeloaders and bandwidth bandits.
The pocket-sized marvel serves up a feast of information for connection-hungry amblers, with a graphic LCD displaying Signal Strength, Security & Encryption, Operation Channel, Radio Band and SSID.
The AG-225H detects all 802.11a and 802.11b/g access points, including 802.11-compatible MIMO and Pre-N networks on both 5GHz and 2.4GHz bands, with the monochrome display giving detailed information about security, SSID and signal strength,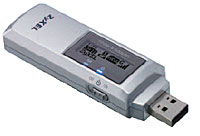 The AG-225H claims to be the first gizmo to combine an 802.11a and 802.11b/g USB 2.0 adapter with a fully functional stand-alone hotspot detector, allowing users to turn their laptops into an access point and share their wireless access with others.
The new device sports a dual-band USB wireless adaptor with advanced WPA2 security and 802.11a worldwide radio support, with intelligent software monitoring the wireless connection and switching bands to avoid interference and maintain high throughput levels.
"As wireless networking increasingly becomes ubiquitous, more and more people are looking to access the Internet on the go to check email, access corporate networks, share music and pictures, and send and receive documents," said Munira Brooks, VP of sales, marketing and business development, at ZyXEL.
"The AG-225H is an ideal tool for the road warrior who can't be without Internet access. It also makes a great holiday gift," Brooks added, plugging frantically.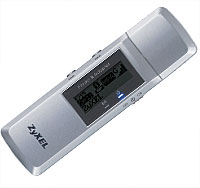 One of the real benefits of carrying around one of these puppies is that you don't have to wander about with a booted-up laptop to see if there's any Wi-Fi in the air, so the US$99 AG-225 could prove invaluable for security professionals looking for any unsecured access points.
And hackers, of course. They'll love it.