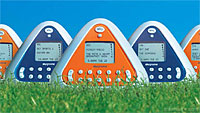 BSkyB has announced The Gnome, a wireless digital receiver gadget that lets Sky subscribers listen to radio (or TV) anywhere around the house.
Sadly, it doesn't come in the shape of a brightly coloured plaster figurine with an oversized head, but the curvy triangular form looks a jaunty enough number.
Using the Gnome, punters can listen to Sky TV and radio channels anywhere in the house, garage or garden, just so long as the receiver is within 30 metres of the Sky box.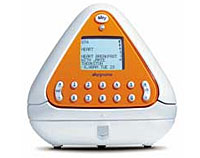 The natty wireless receiver works with all Sky boxes and lets subscribers get an earful of over 80 digital radio channels – as well as the television channels in their Sky package – at no extra charge.
Sky+ customers can also use the cheeky little Gnome to listen to pre-recorded programmes in their Sky+ planner.
The toblerone-esque gadget offers stereo sound, a backlit LCD display providing full channel and programme information, volume and channel controls and the option to pre-set 10 fave channels.
Introducing the device, BSkyB chief executive James Murdoch built himself into an enthusiastic froth of product love and exclaimed, "This is fantastic. We think it's just dynamite!"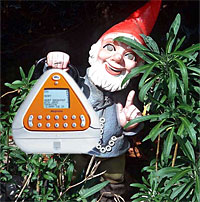 A somewhat mellower Brian Sullivan, BSkyB's director of customer products and services, observed that the Gnome was a "fun product that adds value and flexibility for Sky's growing customer base."
"It forms part of BSkyB's strategy to deliver great entertainment and choice through constant innovation," he added.
The diminutive receiver comes in a choice of Cool Blue or Funky Orange but only offers a rather disappointing battery life of up to 8 hours before the batteries need recharging
The Gnome will be available from October. Prices are still to be confirmed