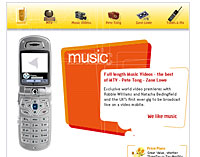 Mobile operator 3 has announced a partnership with EMI Music UK to supply full-length music tracks directly to the three million customers on their network.
Thanks to the deal, 3's customers will be able slip on a pair of gold lycra pants and gyrate around the office to Kylie, Robbie Williams and the rest of EMI's bulging back catalogue.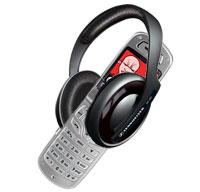 The agreement will also enable customers to access music from EMI's other UK labels which include Parlophone, Relentless and Virgin with the "hottest and freshest" 100 EMI Music UK's tracks made available for downloading in either WMA or AAC format (depending on the handset).
Last year, 3 became the first network to provide full-length music videos over mobiles, offering mainstream videos from Sony BMG and independent music offerings through VidZone.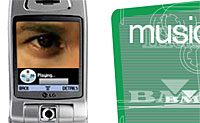 In a flurry of synergetic deals, Robbie Williams launched his single "Misunderstood" on the 3 network before it had been heard on TV or radio and Natasha Bedingfield and Rooster have also streamed concerts live to 3's customers.
Bob Fuller, Chief Executive of 3 UK, clamed that 3 was leading the way in developing the exciting opportunities of 3G mobile technology.
Dave Gould, Commercial Manager, Digital Media for EMI Music UK, added: "We're delighted to bring EMI Music UK's labels to 3. 3 is a leading network in bringing mobile music to their customers and we're really excited about the possibilities of putting more great music into the hands of millions of mobile users."