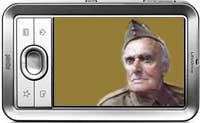 In spite of pundits' predictions of a swift demise, the PDA refuses to die with 2005 looking set to be a record year for handheld sales.
A combination of falling prices and extra features like wireless connectivity have invigorated the PDA market, with Gartner reporting 3.6 million units shipped worldwide in the last three months, a 32 percent leap from the same period last year.
This puts the market on track to hit 15 million units shipped by the end of year – a figure that would surpass the previous record of 13.2 million PDAs shipped in 2001.
The study ignored smartphones, such as the Treo 650 and BlackBerry 7100, but included wireless PDAs like the iPAQ 6315 and Nokia 9300.
Research In Motion's BlackBerry was, not surprisingly, the most popular device, with shipments reaching 840,000 in the second quarter – a hefty growth of 64.7 percent, achieving a sector-leading market share of 23.2 percent.
Palm came in at second place with 17.8 percent, while Dell slipped out of the top five ranking, elbowed out by T-Mobile's Sidekick II and Pocket PC Phone Edition devices.
HP also suffered falling sales, although both Dell and HP are scheduled to upgrade their product lines in the second half of this year.
The study by analysts Gartner revealed that Windows CE is the favoured operating system for business-minded PDA users, with the underlying software making up 46 percent of worldwide shipments in the second quarter of 2005.
In second place was RIM with 23.2 percent of PDA software shipped, followed by PalmSource's at 18.8 percent.
"Wireless PDAs are increasingly seen as an adjunct or alternative to notebook computers, while favourable exchange rates have enabled more Europeans to purchase PDAs at an attractive price," said Gartner analyst Todd Kort.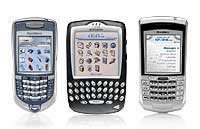 Like Billy Bunter at a speed eating competition, the Western European PDA market inflated by a massive 94 percent to reach 1.3 million units in the second quarter of 2005.
PDAs are proving a big hit with Europeans, with regional sales accounting for 37 percent of worldwide shipments, up from 25 percent a year ago.
In the States, growth is slower, with shipments totalling 1.4 million units, a mere 1.3 percent increase.
Garner reports that the disappointing US figures are a result of a stagnant market and the continuing decline in Palm PDA sales and aging product lines among Microsoft licensees.
Elsewhere, PDA shipments in Asia/Pacific looked sprightly with a growth of 24.7 percent, totalling around 402,000 units.
These figures chime with a similar handheld report from research firm IDC, although their findings painted a little less rosy future.