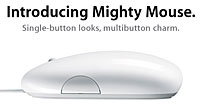 Apple has announced its latest product, the button-bedecked Mighty Mouse, revealing their first departure from the company's traditional preference for single button input devices.
The new mouse carries four independently programmable buttons and a Scroll Ball that lets users scroll all over the place – up, down across and even diagonally.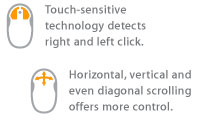 Apple's stubborn refusal to include more than one button on its standard mouse has long brought scorn from the Windows community who were at a loss to understand why Mac users were being deprived of the clear productivity benefits of multi-buttoned mouses (Mice? Micii?)
Up to now, professional Macheads have long complained at being forced to shell out for third party products to enjoy the same button-tastic functionality as their Windows counterparts.
Extra buttons are particularly useful in video and graphic design applications, so Apple is hoping that their four-buttoned and programmable Mighty Mouse will prove a hit.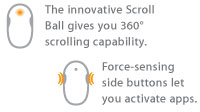 Naturally, Apple have added a little bit of pizzazz to the design, hiding the touch-sensitive technology under a plain shell. This detects which part of the mouse is being clicked, letting users left- and right-click.
Notably, the mouse is a cross platform product, and PC users will be able to tweak and customise the mouse settings using the Mouse control panel on Windows systems.
Sadly, the mouse is a corded device, so we'll be sticking with our dockable, rechargeable wireless Logitech device for now. And that's got seven buttons and doesn't come with a silly name – take that Jobsy!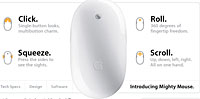 Apple's new feast of buttons will work on Mac OS X (programmability requires Mac OS X v10.4.2 Tiger or later) and Windows 2000 or Windows XP.
Pricing is £35 (~€50, US$62~) in the UK or a considerably cheaper US$49 (~€40, £28~) in the US.