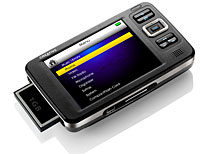 With the slap of a leather gauntlet against iPod's shiny white face, Creative has unveiled its new Zen Vision a portable media player.
Yep, it's yet another contender for the title of 'iPod Killer', but this one's got a killer punch: video playback, a feature that isn't expected to be seen on iPods until 2006.
As well as supporting music playback, users can view movies and digital pictures on the unit's impressively girthed 3.7″ (diagonal) 262k colour TFT LCD screen at a resolution of 640×480.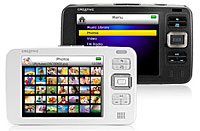 The Zen Vision supports a slew of video codecs, including AVI, DivX, XviD, MPEG-1, MPEG-2, MPEG4-SP and Microsoft's WMV9.
Audio support is similarly comprehensive, with the unit playing MP3 (Up to 320 kbps), WMA (Up to 320 kbps), WMA with Digital Rights Management (DRM) 9 or later and Linear PCM WAV.
Although the Zen Vision can't play tunes downloaded from Apple's iPod music store, it does support other popular music stores including Napster, MSN Music and Yahoo! Music Unlimited, so there'll be shortage of tunes available for the device.
There's also an integrated FM radio on board, offering 32 station presets with the ability to record shows or your own voice.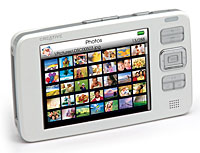 Resplendent in its white or black finishes, the Zen is quite a looker, and is only slightly larger than the rival iPod.
There's 30GB of storage on board, which Creative claims will support up to 120 hours of movies (based on 500Kbps MPEG4-SP), or 15,000 songs encoded at 64k WMA – this is something of a meaningless figure because it's doubtful people will want to listen to their tunes at such a low quality setting..
We very much like the provision of a CompactFlash card slot, with a range of adaptors for popular memory card formats (SD, MMC, Memory Stick etc making it easy for photographers to transfer photos to the device for storage and viewing.
There's also a personal organiser provided, capable of syncing daily tasks, contact lists and calendar data.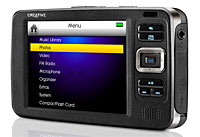 The pocket sized powerhouse comes with a rechargeable Li-ion battery offering up to 4.5 hours of video playback and 13 hours of audio, depending on the file's format and energy settings.
Consumers in the US can pre-order the Zen Vision on Creative's website for US$399 (~€323, £225~). Europeans will have to twiddle their thumbs and wait for now.