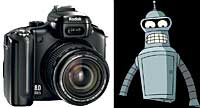 Kodak has announced a new class of 'advanced digital cameras' aimed at grabbing a slice of the burgeoning dSLR market.
They won't be winning any hearts on looks though, with their flagship EasyShare P880 model looking like this "a cross between Bender from Futurama and an ugly tank".
Despite looking like it's fallen off the Ugly Tree, the EasyShare P880 serves up an attractive feature set, offering an 8 megapixel sensor, a slew of enthusiast features and an unusually wide angle 24-140mm (35mm equiv) wide-angle f/2.8 – f/4.1 zoom lens made by Schneider-Kreuznach Variogon (try saying that after a few beers).
Multiple shooting modes are provided, including auto, program, aperture and shutter priorities with fully manual and custom modes available and a handy feature letting users dial-in multiple pre-set scene modes.
Reflecting its enthusiast ambitions, the camera offers RAW file support, 16 – 1/4000 second shutter speeds, a live histogram, a 237,000 pixel electronic viewfinder, custom white balance and digital red-eye reduction.
"While serious photographers demand advanced photographic controls, they're also craving easier-to-use cameras and systems – an area in which Kodak excels," enthused Greg Westbrook, general manager of digital capture products at Kodak.
"The P-Series breaks new ground by deftly combining high performance and simplicity. Its flagship, the EASYSHARE P880 camera, introduces a new, highly compelling alternative to pricier, bulkier dSLRs."
The one big advantage that compact digital cameras have over their dSLR counterparts is the ability to capture video footage, and Kodak have been keen to trumpet the camera's movie making functions.
The P880 can capture VGA video at 30 frames per second (Motion JPEG compression) with zooming and lets users trim, cut, splice and merge clips on the camera and extract individual video frames as 640 x 480 JPEGs at 640 x 480 resolution.
Powered by a high-capacity lithium ion battery, the camera weighs in at 19.6 oz. (556 g) and comes in a reasonably compact package (4.6W x 3.8H x 3.6D in.)
The EasyShare P880 will be available beginning this September priced US$599 (~€486, ~£336).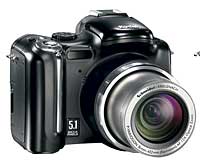 Looking down the range, Kodak have also announced their 5.3 megapixel EasyShare P850 camera, featuring a 12X, 36 – 432mm (35mm equiv.), f2.8 – f/3.7, Schneider-Kreuznach Variogon lens with optical image stabilisation.
Sharing the same video capabilities as its upmarket brother, the 850 offers an advanced, hybrid AF system with 25 selectable points and shutter speeds from 1/2 – 1/1000.
There's also a hotshoe for extended lighting control, the usual selection of preset scene modes with a live histogram, RAW/TIFF/JPEG support and a lithium ion battery.
The EasyShare P850 will knock out for around US$499 (~€405, ~£280).