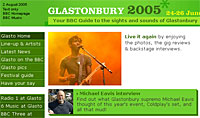 The BBC's online coverage of Live 8 in July notched up a record volume of Web traffic on their radio and music Websites.
Their online coverage of the global Live 8 event generated a massive 14.6m page impressions during its three-day run, with the Live 8 Wap site for mobile phones also proving a big hit, generating 112,000 page impressions over the same three days.
Music fans unable to join the glorious mud-fest at Glastonbury Festival headed to the BBC's interactive Website for coverage of the famous festival, with 13.4m page impressions being generated during the fortnight surrounding the festival.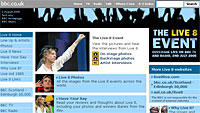 The latest figures for the BBC's online traffic also show a healthy boost in figures for their sports coverage on the Radio Five Live Website, with 910,841 unique users being recorded during June, compared with 840,019 the same period in 2004.
Curiously, although Five Live Sports Extra managed to increase its page impressions from 1,442,915 in June last year to 1,794,421 for the same period this year, unique users fell from 203,953 to 161,036.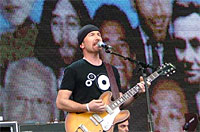 It was mainly good news elsewhere, with Radio 1, Radio 2, Radio 3, Radio 4, 1Xtra, Asian Network and BBC 7 all increasing their unique users compared to the same period last year, with only 6 Music – one of our favourites – letting the side down with a disappointing slump from 418,729 to 356,564.