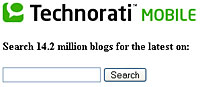 Technorati has launched Technorati Mobile, a stripped-down version of the popular blog search facility designed to be viewed on mobile phones and handheld computers/smartphones.
In case you're not familiar with the site, Technorati is a real-time search engine that keeps track of what is going on in what they describe as "the blogosphere".
Sadly, that's not some cool, far-distant planet where everyone wears hover-boots, but simply their word for online blogs.
Technorati works by tracking zillions of blogs and building a constantly updated database of blog entries, creating what they like to describe as a "live view of the global conversation of the Web."
Making it easier for mobile users to access this service seems a smart enough idea, so Technorati Mobile serves up similar options to the main Technorati site, but in a frill-free interface.
The text-only home page offers a search box, a list of the top ten search terms from the past hour and a short listing of Web links under the title, "What's happening on the Web right now in News, Books and Movies.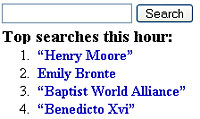 Three stories are displayed from each category, with links underneath leading to pages containing aggregated blog comment on the stories.
There's also the option to get a further ten stories – with associated blog links – by clicking the 'more' link in each category.
Although the Technorati Mobile site is designed for mobile users, we mightily warmed to its simple, no-nonsense interface and found it preferable to their Web version.
So much so, in fact, that it's now replaced their Web version in our PC desktop bookmarks!