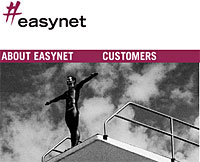 Like Popeye with a mouthful of spinach, broadband providers Easynet have barged BT out of the way to claim a lucrative three-year deal to supply wholesale broadband services to Onetel, Centrica's telecommunications division.
Reflecting the highly competitive LLU market, Easynet's deal is claimed to have undercut BT Wholesale's offering and persuaded Onetel to use Easynet's local loop to supply broadband services to its customer base.
Easynet's LLUStream will enable Onetel to immediately provide 8Mb broadband to customers within LLU (Local Loop Unbundling) areas, with the company perfectly placed to roll out super-fast speeds of up to 24mbps after Easynet's ADSL2+ trials are completed later this year.
Resisting the urge to ring up BT's head honchos and scream, "loooosers!", David Rowe, CEO of Easynet, said: "This is an important milestone for the company. Onetel is a key player in the UK telecommunications market and the selection of Easynet is an endorsement of our Local Loop strategy."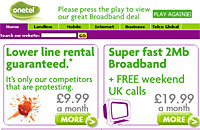 Ian El-Mokadem, Managing Director, Onetel sounded chuffed with the deal: "The partnership with Easynet will allow us to deploy next generation broadband services and benefit from Local Loop Unbundling economics. The market is set to evolve rapidly and we wanted a partner that could demonstrate experience in the local loop, and a willingness to work in a true partnership.
Easynet's network is one of the largest fibre networks in the UK and has been built around British Waterways' canal system.
The company boasts 240 "unbundled" exchanges, giving them coverage of around 4.4m homes and 700,000 businesses.
Last month, Easynet announced plans to further extend this program with another 100 exchanges across the UK, providing coverage for 6m homes.