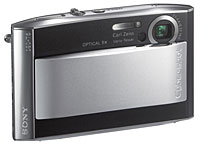 Sony has today announced the latest update to its range of ultra-slim DSC-T digital cameras, the Sony Cyber-Shot DSC-T5.
Thinner than Kate Moss on a diet, the DSC-T5 features an internal folded-optics 3x optical zoom lens, a five megapixel CCD sensor, a 2.5″ anti-reflective Hybrid LCD monitor and 32 MB of internal memory, with extra storage provided by a Memory Stick Duo slot.
Available from September, the DSC-T5 sports the familiar sliding cover/power switch inherited from the DSC-T1 and comes in a black and silver finish with red, black and champagne gold options becoming available in October.
Sony claims that the camera's new InfoLithium T series battery will offer an increased battery life of up to 240 shots per charge, with the camera being ready to shoot images in less than a second.
"This is the perfect 'next' camera for anyone who doesn't want to miss a moment, whether out on the town or at family gatherings," enthused James Neal, director of digital imaging products at Sony Electronics "It's the most affordable model in our T series and a great value given its enhanced performance."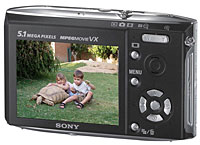 There are a slew of pre-set picture-taking modes onboard to help point'n'shooters get the best from the camera, with a "Magnifying Glass" feature allowing macro shooting up to 1cm from an object and a "High Speed Shutter" to catch fast-moving action.
Using an optional Memory Stick PRO Duo card, users can shoot MPEG-VX video with 640×480 pixel resolution at 30 frames per second, with a 1-gigabyte Sony Memory Stick card capable of holding up to 12 minutes of VGA-quality 640 x 480 MPEG video and over 380, 5-megapixel JPEG Fine images.
The Cyber-shot T5 will be available in September for about $350 (~£198~€286).
The announcement comes after Sony has been forced to slash its earnings forecast following a disastrous first quarter, with The Times reporting first quarter net losses of around ¥7.3 billion (~$69.4m ~£39.3m ~€56.8m).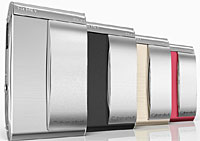 This has resulted in the company dramatically cutting its forecast earnings from ¥80 billion (~$712m ~£403m ~€582m) to ¥10 billion (~$89m ~£50.3m ~€72.8m).
It's widely reported that the problems were down to a poor performance in Sony's TV division and falling retail prices of digital cameras.