Mozilla Works On Mobile Version Of Firefox Browser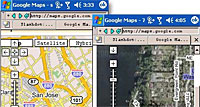 The Mozilla Foundation has released a technology preview of a mobile-phone browser, based on the same code that powers the popular Firefox browser.
With a release name of Minimo 0.007 there's no doubting that we're in deep into early beta stages here, but Mozilla promises to be first handheld browser to feature tabbed browsing and Web services support.
With an interface built in XUL (Extensible User Interface Language), the browser will support cascading style sheets (CSS), JavaScript and resource description language (RDF) for storing dynamic content.
Mozilla hinted that it's been chatting to phone manufacturers about using Minimo, but there doesn't seem to be any official announcements on the horizon yet.
Hackers Crack Windows Genuine Advantage Anti-Piracy Controls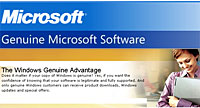 Hackers have made chumps out of Microsoft, successfully bypassing their Windows Genuine Advantage (WGA) Programme only days after the anti-piracy scheme was activated.
The service was supposed to force users to join the WGA authentication program if they wished to receive software updates from the Microsoft Download Centre or from Windows Update.
Users were asked to download an ActiveX control which checked the authenticity of their Windows software and, if validated, would store a download key on the PC for future verification.
Quick-off-the-mark hackers quickly developed a simple one line hack which turned off the trigger for the key check – thus negating the need for users to verify their serial number before using Windows Update.
Doh!
SMS-Mad Brits Send 2.6 Billion Text Messages In June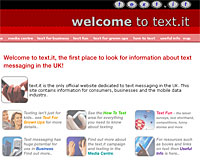 Figures from the Mobile Data Association (MDA) reveal that U.K. mobile phone users sent an astonishing 2.6 billion text messages in June.
This works out at an average of 86.7 million text messages sent each day throughout June – 24% higher than in the same period last year.
There's already been 15 billion text messages sent in the first half of this year in the UK, with the MDA expecting the year's total to reach 30 billion, compared with 26.2 billion in 2004.