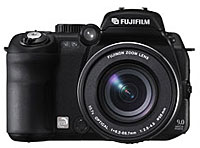 FinePix S9000 Zoom
Fujifilm has rolled out three shiny new cameras, all offering an impressive 9 million megapixel resolution.
Sitting at the top of the pile is the FinePix S9000 Zoom, a fully featured enthusiast camera offering a 10.7x optical zoom (28-300mm equivalent), 80 to 1600 ISO, twist-barrel zoom control, a tilting 1.8-inch LCD but no image stabilisation.
Fujifilm are hoping that the camera's blend of SLR-like features coupled with the compact-style ease of use may grab the company a slice of the fast-growing entry level DSLR market.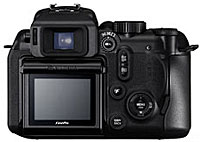 The compact-based design means that – unlike dSLRs – the camera can offer 30-frames-per-second movie mode (with a manual zoom capability) – something that may prove tempting to punters after a high quality 'do it all' camera.
The camera boasts some pretty impressive specs, with an 0.8 second start-up time, and just 0.01 second shutter lag.
Storage is taken care of with xD-Picture Card, CompactFlash and Microdrive support with the facility to save images in the higher quality RAW format.
With dSLR prices plummeting, keen pricing will play a crucial part in the success of this camera, but as yet no prices have been announced.
The camera will be available in the UK from August.
Fujifilm FinePix S5200 Zoom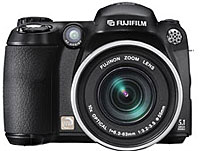 Second up is the Fujifilm FinePix S5200 Zoom, the third incarnation of Fujifilm's S series cameras.
The mini-SLR style camera offers 5.1 megapixel resolution, a 10x optical zoom (38 – 380 mm) and an Anti Blur mode which Fujifilm reckons is better than image stabilization.
There's the usual slew of point and shoot/preset/enthusiast modes available, an ISO range going up to 1600, VGA movie mode and RAW image capture.
The FinePix S5200 will be available in the UK in September.
Fujifilm FinePix E900 Zoom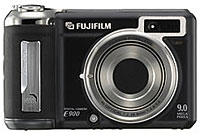 Finally, we come to the Fujifilm FinePix E900 Zoom, a new E series "pocket friendly" compact managing to pack 9 million effective pixels into its lithe proportions.
The camera offers a 4x optical zoom (32 – 128mm), ISO 80 – 800, auto/manual control, RAW capture and a 2-inch LCD.
Start up is a little less impressive at 1.3 seconds although Fujifilm claims a "near instantaneous shutter response".
Pricing and availability have yet to be announced.
FujiFilm
DPreview Fujifilm FinePix S9000 Zoom
DPreview Fujifilm FinePix S5200 Zoom
DPreview Fujifilm FinePix E900 Zoom