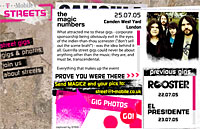 Following a long tradition of The Man stealing ideas off the street to flog their products, T-Mobile is organising a series of impromptu 'street gigs' to promote their new Sony Ericsson D750i camera phone.
The 'spontaneous' performances will take part in London and Birmingham over the summer, with text and picture messages bring sent out to invite T-Mobile customers 90 minutes before the start of the gigs.
Offering 'last minute invites to unusual locations for hedonistic fun', you can see some of T-Mobile's previous (ahem) 'Guerilla street gigs' on their T-Mobile Streets' website
Wielding its corporate chequebook with devastating force, T-Mobile has booked a selection of hot'n'happening music artists like Mercury prize nominee The Magic Numbers, Lemar and El Presidente, along with some unknown acts.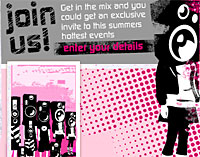 Keen to milk every last ounce of PR potential from the gigs, T-Mobile will be broadcasting the performances online, with company bods on hand to encourage T-Mobile subscribers to test the new handset run off with the thing.
Throughout the two-month event there'll be a photo competition inviting punters to find the picture that best captures the spirit of the gigs.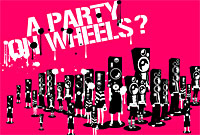 "T-Mobile Street Gigs is the first of our new initiatives to deliver unique experiences for customers," grooved Phil Chapman, UK marketing director, loosening his tie and turning down the David Gray.
Forthcoming gigs are currently being flagged up in T-mobile stores, with only the name of the next band to play appearing on posters.
T-Mobile customers can log into the edgy, stencil-graffiti-strewn website to register their interest and are free to invite as many of their chums as they like once they receive gig details