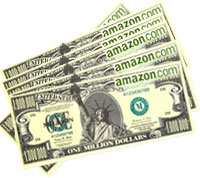 Amazon.com's revenue soared internationally in the second quarter as electronics and other non-book bits'n'bobs made up more of its business.
The cash tills rang loud to the tune of US$1.75 billion (~£1bn, ~€1.45bn) in the quarter ended June 30, up a healthy 26 per cent from US$1.39 billion in last year's second quarter.
Amazon's international segment – which includes its UK French, German, Japanese and Chinese units – climbed 33 per cent from last year to reach US$793 million (~£456m, ~€661m).
The behemoth of online book floggers saw its sales of electronics and general merchandise grow to 26 per cent of its worldwide sales from 23 per cent a year earlier.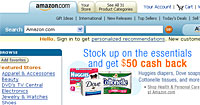 Amazon.com's chief financial officer, Tom Szkutak, announced that third-party sales accounted for 28 percent of Amazon.com's total items sold, sprightly stepping up from 24 percent for this time last year.
Szkutak said that the company was chuffed with the "heavy shopping" undertaken by Amazon Prime customers who have been clicking madly for electronics, tools, kitchen supplies, and health and personal care products.
"Though expensive for the company, Amazon Prime creates a premium experience for customers who join, and as a result we hope they'll purchase more from us in the long term," Szkutak said.
It wasn't all pearly-white grins, as Amazon announced that net income declined to US$52 million (~£30m, ~€43m) from US$76 (~£44m, ~€66.3m) million in the second quarter of 2004.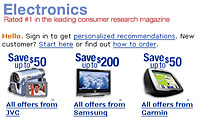 This includes US$56 million (~£32.25m, ~€46.6m) in income tax expense, which was up from US$5 million (~£2.87m, ~€4.16m) a year earlier.
Amazon's earnings were US$0.12 per share, slipping down from US$0.18 per share in last year's second quarter, but still ahead of analyst's predications.
Amazon said it expects sales to increase of 20 percent to 31 percent in the current quarter compared to last year.