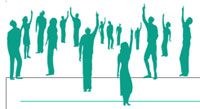 Illegal music downloaders shell out more for legitimate music downloads than goody two-shoes music fans.
The results of the '2005 Speakerbox' study by market researchers The Leading Question revealed that music fans who download music illegally via file-sharing networks also fork out four-and-a-half times more on legitimate music downloads than average fans.
The survey asked 600 British PC and mobile-owning British music fans about their downloading activities and discovered that music pirates spend substantially more on legally downloadable music through sites like Apple's iTunes Music Store or Napster
According to the report, pirates who regularly download or share unlicensed music spend an average of £5.52 (~US$9.63, ~€7.99) per month on legal digital music, while average music fans only spend £1.27 (~US$2.21, ~€1.84) on digital tracks.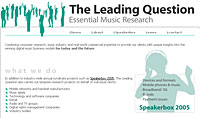 How much both groups spend on CDs wasn't specified.
"Music fans who break piracy laws are highly valuable customers," said Paul Brindley, director of The Leading Question.
"Legal actions are making something of an impact but unlicensed file sharing will never be eradicated. The smart response is to capitalise on the power of the p2p networks themselves to entice consumers into more attractive legal alternatives," he added.
The research also revealed that illegal downloaders were mustard keen to try emerging music services, with 60% wanting to get their hands on a MP3-enabled phone, compared to just 29% of other music fans.
"There's a myth that all illegal downloaders are mercenaries hell-bent on breaking the law in pursuit of free music," Brindley continued. "In reality, they are often hardcore fans who are extremely enthusiastic about adopting paid-for services as long as they are suitably compelling."
The survey highlighted that phones still have some way to go before they can compete with dedicated MP3 players as de-facto music playing devices.
Only 8% of punters surveyed were planning to buy a music playing mobile phone in the next 12 months, compared to 33% ready to rip out the readies for an iPod or dedicated MP3 player during the same period.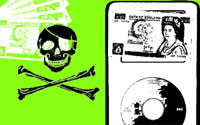 Respondents cited built-in cameras, organiser functions and video cameras above music players in their preferences for mobile phone features.
Punters expressed concern about the low battery life of music playing phones, with some fearful of losing their music collection if they lost their phone.
With many consumers getting their phones for nowt through contract deals – and often replacing them regularly – the survey concluded that most punters have a low "emotional attachment" to their phones.
Despite this, 38% of those surveyed liked the idea of downloading full-length tracks direct to their mobiles, with the figure rising to over 50% for punters already downloading tracks to their computers.
Mobile phone manufacturers trying to tempt new users with bigger onboard memory will note that only 4% of the survey respondents wanted more than 1,000 songs worth of music to take with them on holiday.
Online file sharers 'buy more music' [Guardian]
The Leading Edge