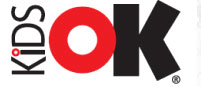 KidsOK, a tracking service that lets parents locate their child using a mobile phone, has gone on sale in the UK today,
Created by mTrack Services, the firm claim that they can establish the location of a mobile phone within 60 seconds.
Concerned/nosey parents can 'ping' their child's mobile by sending a text message to 60777 including the child's name (e.g. texting "ping johnny" will instruct KidsOK to identify the position of the child's phone).

Parents will then receive a text description and map of the location where there little Johnny's phone currently resides, accurate to within 500m in built up areas using GSM location-based technology..
Richard Jelbert, CEO and co-founder of mTrack Services, says the service will offer parents an alternative to sending "embarrassing" calls or text messages to their children while they're out playing with their mates.
The service has been endorsed by children's charity Kidscape and all mobile numbers are encrypted by the KidsOK servers to ensure privacy.
Parents also have to go through Home Office approved security checks during registration before they are able to use the service.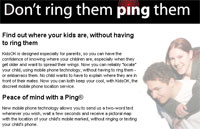 The bit that may strike fear into parents trying to foist these phones on their offspring is that fact that kids have to opt in to the KidsOK service and they can turn off the service any time they like.
Like when they want to have fun.
The KidsOK pack, retailing for £39.95 (~US$70, ~€58), will include the first year's subscription, three handsets enabled and the first ten pings.
Parents can purchase the packs throughout the UK from outlets such as Arcadia Outfit, Comet Destination, BHS, Boots, Millets, Blacks and The Link.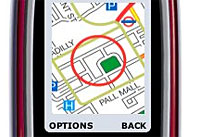 Larger families can enable further handsets on payment of £4.95 p.a. per handset (~US$8.75, ~€7.25). Further 'pings' are purchased in bundles of 20 from KidsOK for £9.95 (~US$17.5, ~€14.5).
So far, O2, Orange, T-Mobile and Vodafone have enabled the service but presently children's phones on Virgin and 3 cannot be located.
The service doesn't require a PC or extra software, but parents using the service need their mobile phones to be enabled for WAP (GPRS).
mTrack Services have stated that each pack sold generates £1 towards the KidsOK Charitable Trust, providing donations to a variety of children's charities and good causes.