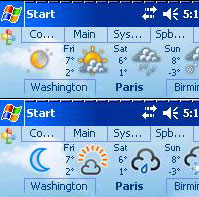 For travelling PocketPC users unsure whether to pack away a brolly or load up with the sunscreen lotion, Spb Weather could prove to be an essential tool.
The weather forecast plug-in for the 'Today' screen on PocketPC serves up a veritable storm of weather-related information in a neat, concise interface.
Spb Weather is designed to display the latest worldwide weather reports from a variety of weather sources including GisMeteo, Intellicast, and Weather.com, with the option for users to specify their own data source.
Installation on to a Pocket PC was straightforward enough using Microsoft Activesync, with no faffing about with firewalls needed for the app to automatically update the forecasts from the web (you can specify when and how often you want updates to occur).
I decided to install it on to the storage card of my XDA Compact (iMate JAM) and it ran with no problems.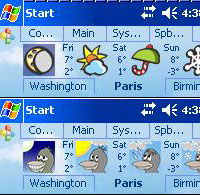 Once installed, it's simply a case of choosing the cities you want displayed (you can manually add unlisted locations), and then having a fiddle about with all the fun display options lurking in the options dialog.
You can rummage through a wide variety of nicely-designed skins, icons and layouts, and decide how you want the information to be presented on your 'Today' screen, with options to select a 4 day, 5 day, 7 day or multiline view.
Clicking on a specific day brings up a detailed forecast for the day, with a mass of facts about temperature, humidity, pressure and wind information.
I've set the program to show me the weather in various cities around the world – including my home town and locations I'll be travelling to shortly – and, of course, my lovely Cardiff, where the 'rain' icon seems to appear with alarming regularity.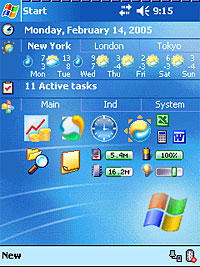 For travellers, tourists and stay-at-homers with a passing interest in the weather, this is a handy, fun application that adds real value to a Pocket PC. Recommended.
Star rating: 5/5


Cost: US$14.95 (~£8.50~€12.30)
Tech requirements: 2.0 MB space on handheld, Pocket PC 2002 or Windows Mobile 2003 device