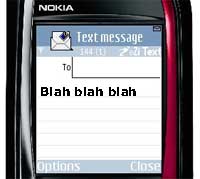 Us in UK-land have long been fans of SMS messaging, with button-pushing Brits banging out 3 million text messages every hour, with 2.5 billions text being sent in January 2005 alone.
In the States, it's a different story, where network inoperability has held back the medium, but new figures show that SMS is finally make an impact in the USA, as messaging soared 59% last year.
The figures emerged in the June 2005 edition of Informa Telecoms & Media's World Cellular Data Metrics, which pointed out that the value of the US mobile data market has increased by around 80 percent.
Total revenues from non-voice services for the four biggest US mobile operators roared up to more than USD 1.2 billion in Q1 2005, compared to a comparatively miserly USD 689 million in the same period of 2004.
Kester Mann, Senior Research Analyst at Informa Telecoms & Media has the answers: "Interoperability is fundamental to the success of messaging and has been the key limiting factor to SMS usage in the States in the past."
"The near 60% increase in traffic last year would not have been possible if subscribers could have sent SMS only within their own networks", he added, sagely.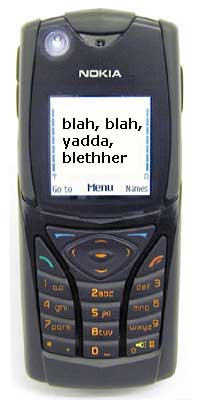 GSM operator T-Mobile was particularly chuffed with its performance as its customers belted out a total of 3.6 billion messages during Q1 2005 – that works out at around 67 texts per subscription per month.
This total is more than double last year's volume, and SMS traffic looks set to rise as operators like T-Mobile roll out attractively priced "unlimited texting" tariffs.
Just like in Europe, texting in the US has also been boosted by cheesy TV shows offering interaction via SMS.
"Thanks largely to SMS, data now typically contributes 6-10% of mobile operators' total revenues in the States," mulled Mr Mann, manfully.
"While this still remains some way below the industry average, it marks a significant increase from the 4% recorded this time last year and less than 2% at the beginning of 2003," he added.
US text traffic still has a long way to go until it matches Western European levels – where non-voice services form an average of 15-16% of mobile operators' revenues – and is unlikely to top the 48% of revenue generated by SMS-smitten Filipinos.
And while we're in the mood to throw around some SMS-related facts, get a load of this UK selection, courtesy of text.it:
On New Year's Day 2003, the number of text messages sent in one day topped one hundred million for the first time, and on New Year 's Day 2004, the daily total reached 111 million messages
On New Year's Day 2005, the highest daily total ever recorded by the Mobile Data Association was reached, when 133 million messages were sent
UK text message figures for January 2005 topped 2.5 billion, with 2.4 billion sent in December 2004 and 2.2 billion for November 2004
92 million text messages were sent by Britons on Valentine's Day 2005, compared to the estimated 12 million cards sent.